Neglected now is the old guitar
And moldering into decay;
Fretted with many a rift and scar
That the dull dust hides away,
While the spider spins a silver star
In its silent lips to-day.

The keys hold only nerveless strings--
The sinews of brave old airs
Are pulseless now; and the scarf that clings
So closely here declares
A sad regret in its ravelings
And the faded hue it wears.

But the old guitar, with a lenient grace,
Has cherished a smile for me;
And its features hint of a fairer face
That comes with a memory
Of a flower-and-perfume-haunted place
And a moonlit balcony.

Music sweeter than words confess,
Or the minstrel's powers invent,
Thrilled here once at the light caress
Of the fairy hands that lent
This excuse for the kiss I press
On the dear old instrument.

The rose of pearl with the jeweled stem
Still blooms; and the tiny sets
In the circle all are here; the gem
In the keys, and the silver frets;
But the dainty fingers that danced o'er them--
Alas for the heart's regrets!--

Alas for the loosened strings to-day,
And the wounds of rift and scar
On a worn old heart, with its roundelay
Enthralled with a stronger bar
That Fate weaves on, through a dull decay
Like that of the old guitar!
This poem is in the public domain.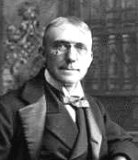 James Whitcomb Riley (1849 - 1916) was an American poet best known for his children's poems and dialect-based verses. James was born in Greenfield, Indiana, and later moved to Indianapolis; homes in both cities are preserved and open to the public today. James was hugely popular during his lifetime. A bestselling author who traveled the country speaking to sell-out crowds, he never married or had children of his own, but he loved children and they loved him back. When he died, more than 35,000 people came to pay their respects as James lay in state under the Indiana capitol dome.  
There are no comments for this poem yet.