In the grey summer garden I shall find you
With day-break and the morning hills behind you.
There will be rain-wet roses; stir of wings;
And down the wood a thrush that wakes and sings.
Not from the past you'll come, but from that deep
Where beauty murmurs to the soul asleep:
And I shall know the sense of life re-born
From dreams into the mystery of morn
Where gloom and brightness meet. And standing there
Till that calm song is done, at last we'll share
The league-spread, quiring symphonies that are
Joy in the world, and peace, and dawn's one star.


This poem is in the public domain.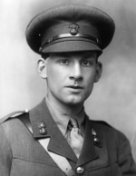 Siegfried Sassoon (1886 - 1967) was a British author and poet best known for his antiwar poetry. A heroic soldier who was respected by his superiors and beloved by his troops, he earned the nickname "Mad Jack" for his daring escapades during World War I. Despite his devoted patriotism and valiant service to his country, Siegfried found war abhorrent and published numerous collections of poetry that detailed and condemned its horrors. He was a lifelong cricket enthusiast and played the game well into old age.

tannerlynne:
Wow! Where gloom and brightness meet...
Posted 09/08/2011 11:16 AM
dotief@comcast.net:
I love when poetic structures are so seamless, one hardly knows they are there. This is such a magnificent poem that does just that! And it certainly elevated me this day as I read it over and over. Wonderful!
Posted 09/08/2011 08:56 AM