HIM!
He dressed hisself from top ter toe
To beat the lates' fash'n.
He give his boots a extry glow,
His dicky glistered like the snow,
He slicked his hair exactly so,
An' all ter indicate "his pash'n."
He tried his hull [whole] three ties afore —
He kep' the one on that he wore.
HER!
All afternoon she laid abed
To make her featturs brighter.
She tried on ev'ry geoun she hed,
She rasped her nails until she bled,
A dozen times she frizzed her head
An' put on stuff to make her whiter,
An' fussed till she' d 'a' cried, she said,
But that 'ld make her eyes so red.
THEM!
They sot together in the dark
Wthout a light, excep' their spark,
An' neither could have told er guessed
What way the t'other un was dressed!

Originally published in A Patch of Pansies (New York: G.P. Putnam's Sons, 1894)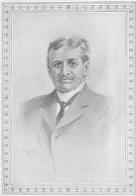 Edmund Vance Cooke (1866 - 1932), often referred to as "the poet laureate of childhood," was born in 1866, in Ontario, Canada. He began working at the White Sewing Machine Co. factory as a teenager and stayed there for 14 years, until he became a self-employed poet and lecturer in 1893. His first book of poems, A Patch of Pansies, came out the next year,. Edmund is a fine and highly entertaining poet whom many critics consider underrated; he published sixteen collections of poetry during the course of his career, plus many children's books.
dotief@comcast.net:
This one is very good! So true.
Posted 08/15/2014 09:39 AM
Cindy:
This is really cute.
Posted 08/15/2014 08:56 AM
poetronics:
Charming!
Posted 08/15/2014 12:13 AM
KevinArnold:
Oh yes, this is fun. I'd like to say we've moved forward since then but we still spend such time on our deportment, and, while I hate to admit it, I know people continue to see right through us. Still, there was a spark.
Posted 08/14/2014 11:36 PM
jonidee61:
What fun!
Posted 08/14/2014 11:32 PM