My husband gives me an A
for last nightís supper,
an incomplete for my ironing,
a B plus in bed.
My son says I am average,
an average mother, but if
I put my mind to it
I could improve.
My daughter believes
in Pass/Fail and tells me
I pass. Wait Ďtil they learn
Iím dropping out.

From The Five Stages of Grief (W.W. Norton & Co., 1978)
Used with the authorís permission.
†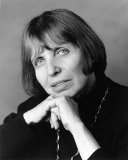 Linda Pastan grew up in New York City, graduated from Radcliffe College, and received an MA from Brandeis University. She has published 13 volumes of poetry, two of which have been finalists for the National Book Award; her newest is Traveling Light (W. W. Norton).††Linda's poems have appeared in many journals, including The Atlantic Monthly, The New Yorker, The Nation, and The Georgia Review. She has been Poet Laureate of Maryland, and in 2003 won the Ruth Lilly Poetry Prize for lifetime achievement. Linda lives with her husband in Potomac, Maryland; they have three children and seven grandchildren.
†
skyyab:
Had to write about this poem for my poetry class in college! I'm from Frederick Maryland so thought it was interesting to learn how Linda is from Potomac :)
Posted 02/20/2021 08:45 PM
LindaCrosfield:
Nancy, I love that story and Linda, I love this poem!
Posted 10/18/2011 10:31 AM
nancy scott:
Love the poem. It's my first smile today. My mother was a teacher; when my brother was in Viet Nam, he wrote many letters to her. After she died we found his letters, all marked up in red and given a grade!
Posted 10/18/2011 08:23 AM
Julianne Carlile:
I've always liked this poem.
Posted 10/18/2011 07:45 AM
dotief@comcast.net:
I feel her pain! I dream often about abdicating my glorious wifely pedestal.
Posted 10/18/2011 07:38 AM