Poet Profile: Wendy Morton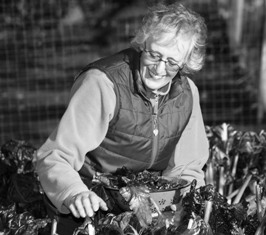 Like the starship Enterprise, Wendy Morton boldly goes where no poet has gone before--into laundromats, airplanes, gas stations, and thrift stores--as she shows the world that poetry is something no one should be without. While holding down a day job as an insurance investigator for the past thirty years, Wendy has authored five books of poetry and a memoir. She also founded Canada's annual Random Acts of Poetry event, about to celebrate its seventh year. A resident of Sooke, British Columbia, Wendy is to poetry what Hershey's is to chocolate--and the world of poetry is blessed to have her.

Why poetry?
I like to say that poetry is the shortest distance between two hearts, and having read poems to about 1000 strangers, I believe it. I have had people, who hadn't heard a poem in 30 years, grab my hand, hug me, sometimes offer me money. I think a poem is a photograph from my mind. I want people to see what I have seen and I can do it best with a poem.
How did you come to be a professional poet?
When my first book of poetry, Private Eye, came out, I had no idea how I would "get known as a poet". So I started to promote myself, because I had an interesting "hook;" I was a " private eye" insurance investigator) and a poet. I got some great publicity, the sponsorship of WestJet Airlines, Chrysler, Fairmont Hotels, Prairie Naturals Vitamins, AbeBooks, and some others. The poems kept coming, and six books later, I guess I am " a professional poet." This year I won two prizes for my contribution to Canadian poetry: the Spirit Bear Award and the Golden Beret Award.
Do you have favorite poets or poems?
When I was a young poet, my favourite poets were William Butler Yeats, Wallace Stevens, and T.S. Eliot. Later, Patrick Lane and Lorna Crozier, two wonderful Canadian poets, became my favorites. Wesley McNair is another marvelous poet.
What's the most interesting "poetry pilgrimage" you've ever made?
I think that going into my garden everyday is my most interesting poetry pilgrimage. There is always a poem waiting to be discovered. [Ed. note: the photo above shows Wendy in her garden, picking chard.]
In the great scheme of things, where does poetry fit in?
I stumbled across this quote by Elizabeth Kaye: " I no longer expect things to make sense. I know there is no safety. But that does not mean there is no magic. It does not mean there is no hope. It simply means that each of us has reason to be wishful and frightened, aspiring and flawed. And it means that, to the degree we are lost, it is on the same ocean, in the same night." For me, poetry makes sense of the world for me. It keeps me from being lost.
Describe your writing routine and/or process.
I write fast, on the back on envelopes, on any scrap of paper. I start seeing the poem in my head, start saying the words ,and then lunge for the paper. I let it sit for a day, then work it a bit, then say, ok, that's it.
What's the most absurd thing you've ever written a poem about?
I wrote a poem called "Spanking with Cabbage," which was inspired in part by a file I was working on about a couple who ran an S&M Bed and Breakfast.
When/where are you most inspired?
When I overhear something, when I see something, when I pay attention and have a chance to be focused.

Which classic poet would you most like to meet, and why?
I'd like to have lunch with William Shakespeare, just to hear him talk in Iambic Pentameter.
Is there some consistent trademark or characteristic that you've discovered in your poetry?
I hope that people who read my poems get them right away. I want my poems to be clear and hit the heart of those who read them.
Anything else you'd like to share--advice, anecdotes, forthcoming adventure, etc?
In 2003, I did a tour with my second book of poetry, Undercover, in Nova Scotia, New Brunswick and Prince Edward Island. Chrysler gave me a PT car (Poetry Travels!), put a decal on it,"Chrysler Supports Literacy," and bought 50 of my books. I would stop anywhere I felt like it: at a second hand store, a gas station, wherever, and read poems to strangers and give each one a book. The first Random Acts of Poetry was born. The next year, it became a national event in Canada, with the sponsorship of AbeBooks and an anonymous sponsor for whom I'd written a poem on one of my WestJet flights. [Ed. note: Wendy was "Poet of the Skies" for WestJet Airlines.] Poets all over Canada went into their towns and read poems to strangers. It was a thrilling event. This month will be our 7th year of Random Acts of Poetry. Our current sponsors are Canada Council for the Arts and the same anonymous sponsor, and it is now a project of the Victoria READ Society. This year we are reading poems one to one with vulnerable youth in detention centers, alternative schools, and youth centers. The event has grown into a true celebration of literacy.
Many thanks to Wendy for her time and reflection on these questions. You can read one of Wendy's poems on Your Daily Poem here.