This site exists for one purpose only: to help dispel the ugly myth that poetry is boring. Granted, a lot of poetry is boring, but you won't find it here. At Your Daily Poem, you'll find poetry that is touching, funny, provocative, inspiring, and surprising. It may punch you in the gut, it may bring tears to your eyes, it may make you laugh out loud, but it most assuredly will not bore you.
Poetry on YDP—by poets living and long dead, famous to completely unknown--is specially selected for accessibility and appeal. If you enjoy the site, please tell others about it; there's a "Share" button below to make that easy.
Thanks so much for visiting—and remember: a poem a day keeps the doldrums away!
Dishwasher
by
Deborah Rohde
lulled into compliance while
sudsy dreams caress their colors
Sour nests of last night's soup bowls
cringe at the electric rush
tickles their shallow tummies
remembering the split pea coats
Forks and knives crowd their cars
saluting their cupmates overhead
© by Deborah Rohde.
Used with the author's permission.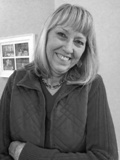 Deborah Rohde is a former corporate executive in healthcare construction. She is now semi-retired and teaches part time. Deborah began writing poetry in 2012, is a frequent reader at open mics, and likes poetry that is accessible. She lives in Illinois.
New comments are closed for now.
transitions:
I never knew that all of that was going on in my diswasher - what a 'fun' place! Thanks for the smiles, great poem. Judy
Posted 07/30/2013 09:12 PM
erinsnana:
I do believe you sat in the dishwasher for a few cycles! Excellent!
Posted 07/30/2013 03:36 PM
KevinArnold:
Yes, as Jayne says, everything about this poem is fun.
Posted 07/30/2013 10:29 AM
Wilda Morris:
Goes to show you can write a poem about anything - if you have the imagination to do it. This is such a fun poem!
Posted 07/30/2013 10:19 AM
twinkscat:
Very imaginative!
Posted 07/30/2013 10:16 AM
Larry Schug:
You mean there are machines that wash dishes? What'll they think of next! Seriously,this is a good poem; it puts me right inside that dishwasher.
Posted 07/30/2013 09:56 AM
dsmith1008:
Amazing poem. It's like being inside a dishwasher! I can't believe you've only been writing for a short time. You have a lot of talent.
Posted 07/30/2013 09:47 AM
paradea:
I love this poem!! My dishwasher is loaded like the Clampetts coming into Beverly Hills. Thanks for the lyrical imagery from such an ordinary place!
Posted 07/30/2013 09:42 AM
Havenwood:
A very clever and descriptive read and write!
Posted 07/30/2013 09:37 AM
Charly:
Creative and original...poems are everywhere!
Posted 07/30/2013 07:33 AM
TheSilverOne:
wonderful to take an appliance we now take for granted and find a poem there!
Posted 07/30/2013 07:06 AM
Latha:
Wow! after reading this, I will not be able to load my dishwasher without giving personalities and form to all the crockery and cutlery going into the "coming storm". Wonderfully written!
Posted 07/30/2013 04:37 AM
MaryLeeHahn:
Who knew?!? Thanks for the insider scoop on the lives of the dirty dishes!! :-)
Posted 07/30/2013 04:15 AM