This site exists for one purpose only: to help dispel the ugly myth that poetry is boring. Granted, a lot of poetry is boring, but you won't find it here. At Your Daily Poem, you'll find poetry that is touching, funny, provocative, inspiring, and surprising. It may punch you in the gut, it may bring tears to your eyes, it may make you laugh out loud, but it most assuredly will not bore you.
Poetry on YDP--by poets living and long dead, famous to completely unknown--is specially selected for accessibility and appeal. If you enjoy the site, please pass it along; there's a "Share" button below to make that easy. And if you'd like to add a bit of poetry to your life on a regular basis, use the "Subscribe" button at the left and we'll deliver a poem directly to your mailbox daily, every Monday, or once a month.
You're encouraged to comment on any of the poems you see featured here; a simple registration process will allow you to do that. Please bear in mind that Your Daily Poem attracts readers of all ages and mindsets; comments that are crude, insensitive, or inflammatory are unwelcome and will be removed.
Thanks so much for visiting. Content here is updated daily, so come back often or, better yet, become part of the YDP family and enjoy private commentary shared only with subscribers.

Remember: a poem a day keeps the doldrums away!
Return
by
Andrena Zawinski
There is a morning inside you
waiting to burst open into Light. ~Rumi
The forced tulips blossomed
in just a week, petals
so dense, so bound
to each other, bulbs swollen
with new bold blooms
dropping their heady
orange petals almost as quickly
as they seemed
to have appeared. 

Even in this long drought,
even with their fading green
and quickly wilting stems,
I force them deep inside
a mound of rich earth,
where they stand again even taller,
roots reaching downward
in the need for revival,
in the want of resurrection 

beneath a dreamy sun, inside
the breathy breeze, awaiting
the coming kiss of rain.


© by Andrena Zawinski.
Used here with the author's permission.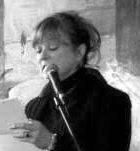 Andrena Zawinski was born and raised in Pittsburgh, Pennsylvania, but has made the San Francisco Bay Area her home since 2000. Primarily a poet and long time teacher of writing, she founded and runs a Women's Poetry Salon, dabbles in flash fiction, and is an avid shutterbug. She is also Features Editor at PoetryMagazine.com. Learn more about Andrena here.
There are no comments for this poem yet.