See details on the 2016 YDP Poetry Writing Workshop here! And download your registration form here!
This site exists for one purpose only: to help dispel the ugly myth that poetry is boring. Granted, a lot of poetry is boring, but you won't find it here. At Your Daily Poem, you'll find poetry that is touching, funny, provocative, inspiring, and surprising. It may punch you in the gut, it may bring tears to your eyes, it may make you laugh out loud, but it most assuredly will not bore you.
Poetry on YDP--by poets living and long dead, famous to completely unknown--is specially selected for accessibility and appeal. If you enjoy the site, please pass it along; there's a "Share" button below to make that easy. And if you'd like to add a bit of poetry to your life on a regular basis, use the "Subscribe" button at the left and we'll deliver a poem directly to your mailbox daily, every Monday, or once a month.
You're encouraged to comment on any of the poems you see featured here; a simple registration process will allow you to do that. Please bear in mind that Your Daily Poem attracts readers of all ages and mindsets; comments that are crude, insensitive, or inflammatory are unwelcome and will be removed.
Thanks so much for visiting. Content here is updated daily, so come back often or, better yet, become part of the YDP family and enjoy private commentary shared only with subscribers.

Remember: a poem a day keeps the doldrums away!
Monosyllabic
by
Carl Sandburg
Let me be monosyllabic to-day, O Lord.
Yesterday I loosed a snarl of words on a fool,
        on a child.
To-day, let me be monosyllabic . . . a crony of old men
        who wash sunlight in their fingers and
        enjoy slow-pacing clocks.
This poem is in the public domain.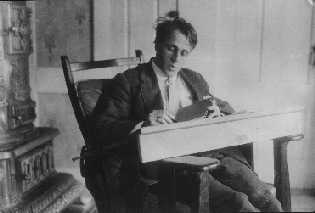 Robert Frost (1874-1963) was born in San Francisco, but moved to Massachusetts with his family after his father's death in 1885 and, ultimately, lived in a number of homes and farms throughout New England. Though he attended several prestigious colleges and universities, he never graduated from any of them. Nonetheless, Robert spent most of his adult life teaching, receiving more than forty honorary degrees, along with four Pulitzer Prizes. Robert's interest in poetry started early; he published his first poem while in high school, sold his first poem at twenty, and by the age of forty, was one of America's best known and best loved poets. Rural life is a consistent theme in Robert's poetry, as is simplistic language that is pleasing to the ear; he felt strongly that poetry was best appreciated when read aloud.
Dorcas:
Time slow love.
Posted 07/24/2016 06:46 PM
transitions:
"Who wash sunlight in their fingers"...beautiful!
Posted 07/24/2016 05:28 PM
barbsteff:
but hardly monosyllabic!
Posted 07/24/2016 02:57 PM
blueskies:
Perfect > a righteous prayer cloak'd as a poem!
Posted 07/24/2016 11:22 AM
cork:
I like Robert Frost, but this is truly a Carl Sandburg poem. I love "Fog."
Posted 07/24/2016 09:38 AM
Jean :D:
This is my daily prayer! I struggle to tell a short "story" to friends & family. Kindness, that I can do well.
Posted 07/24/2016 09:11 AM
rhonasheridan:
Delightful
Posted 07/24/2016 09:06 AM
Newf:
Yes, and let those words be kind. This is wonderful poetry and a wonderful prayer.
Posted 07/24/2016 07:28 AM