This site exists for one purpose only: to help dispel the ugly myth that poetry is boring. Granted, a lot of poetry is boring, but you won't find it here. At Your Daily Poem, you'll find poetry that is touching, funny, provocative, inspiring, and surprising. It may punch you in the gut, it may bring tears to your eyes, it may make you laugh out loud, but it most assuredly will not bore you.
Poetry on YDP--by poets living and long dead, famous to completely unknown--is specially selected for accessibility and appeal. If you enjoy the site, please pass it along; there's a "Share" button below to make that easy. And if you'd like to add a bit of poetry to your life on a regular basis, use the "Subscribe" button at the left and we'll deliver a poem directly to your mailbox daily, every Monday, or once a month.
You're encouraged to comment on any of the poems you see featured here; a simple registration process will allow you to do that. Please bear in mind that Your Daily Poem attracts readers of all ages and mindsets; comments that are crude, insensitive, or inflammatory are unwelcome and will be removed.
Thanks so much for visiting. Content here is updated daily, so come back often or, better yet, become part of the YDP family and enjoy private commentary shared only with subscribers.

Remember: a poem a day keeps the doldrums away!
To Helen About Her Hair
by
Robinson Jeffers
Long, lovely, liquid, glorious
Is your hair, and lustrous,
Scented with summertime.
Beware when you are combing it,
In the nights and mornings,
Shaking its splendor out.
I bid you comb it carefully,
For my soul is caught there,
Wound in the web of it.
From Flagons and Apples (Grafton Publishing, 1912).
This poem is in the public domain.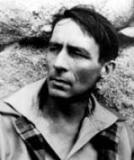 Robinson Jeffers (1887 – 1962) was born in Pittsburgh, Pennsylvania, but moved with his family to California as a young teen. Studying first literature, then medicine, then forestry, a small inheritance finally allowed Robinson to turn his attention to poetry, with a side occupation as a stonemason. As a committed outdoorsman, much of Robinson's work centered around the wild beauty of nature.
SAR2126:
I love the education that you provide -- for some reason I can't imagine, I had not heard of Jeffers. Thank you
Posted 02/23/2017 10:13 AM
KevinArnold:
Wonderful--thanks for posting. Jeffers is a local favorite but I'd missed this one. très romantique.
Posted 02/23/2017 08:40 AM
blueskies:
Shall be reading more from Jefferson. Stunning glimpse into a soul who loves deeply. Thanks,Jayne.
Posted 02/23/2017 07:37 AM
Larry Schug:
What a cool surprise at the end of this poem!
Posted 02/23/2017 07:17 AM