This site exists for one purpose only: to help dispel the ugly and absolutely untrue myth that poetry is boring. Granted, a lot of poetry is boring, but you won't find it here. At Your Daily Poem, you'll find poetry that is touching, funny, provocative, inspiring, uplifting, and surprising. It may punch you in the gut, it may bring tears to your eyes, it may make you laugh out loud, but it most assuredly will not bore you.
Poetry on YDP—by poets living and long dead, famous to completely unknown--is specially selected for accessibility and appeal. Thanks so much for visiting—and remember: a poem a day keeps the doldrums away!
I Love to See the Summer
by
John Clare
I love to see the summer beaming forth
And white wool sack clouds* sailing to the north
I love to see the wild flowers come again
And mare blobs** stain with gold the meadow drain
And water lilies whiten on the floods
Where reed clumps rustle like a wind shook wood
Where from her hiding place the Moor Hen pushes
And seeks her flag nest*** floating in bull rushes
I like the willow leaning half way o'er
The clear deep lake to stand upon its shore
I love the hay grass when the flower head swings
To summer winds and insects happy wings
That sport about the meadow the bright day
And see bright beetles in the clear lake play

* Big cumulus clouds with curved edges; Clare is saying the clouds look like huge bales of wool
** A colloquial term for the bright yellow marsh marigold, also known as kingcups
*** A nest made of reeds or rushes

This poem is in the public domain.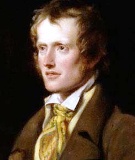 John Clare (1793 - 1864) was born to a poor, working class family in England. His life as an uneducated peasant farmer was one of constant struggle and hardships, yet his poetry is wonderfully inspiring. John was a "poetic environmentalist," in awe of the natural world, and nature is the theme of much of his work. His poetic talent earned him access to London's literary circles, though his inferior social standing kept him from ever truly joining its ranks. Tragically, John spent the last twenty years of his life in a mental asylum, though he continued to write and produce poetry that some critics laud as some of the 19th century's best work. Learn more about John Clare here.
There are no comments for this poem yet.