Welcome to Your Daily Poem!
This site exists for one purpose only: to help dispel the ugly myth that poetry is boring. Granted, a lot of poetry is boring, but you won't find it here. At Your Daily Poem, you'll find poetry that is touching, funny, provocative, inspiring, and surprising. It may punch you in the gut, it may bring tears to your eyes, it may make you laugh out loud, but it most assuredly will not bore you.
Poetry on YDP--by poets living and long dead, famous to completely unknown--is specially selected for accessibility and appeal. If you enjoy the site, please pass it along; there's a "Share" button below to make that easy. And if you'd like to add a bit of poetry to your life on a regular basis, use the "Subscribe" button at the left and we'll deliver a poem directly to your mailbox daily, every Monday, or once a month.
You're encouraged to comment on any of the poems you see featured here; a simple registration process will allow you to do that. Registering will also allow you to participate and comment at the YDP Open Mic, where you can share your own poetry and get helpful feedback. Please bear in mind that Your Daily Poem attracts readers of all ages and mindsets; comments that are crude, insensitive, or inflammatory are unwelcome and will be removed.
Thanks so much for visiting. Content here is updated daily, so come back often or, better yet, become part of the YDP family and enjoy private commentary shared only with subscribers.

Remember: a poem a day keeps the doldrums away!
Late September
by
Amy Lowell
Tang of fruitage in the air;
Red boughs bursting everywhere;
Shimmering of seeded grass;
Hooded gentians all a'mass.
Warmth of earth, and cloudless wind
Tearing off the husky rind,
Blowing feathered seeds to fall
By the sun-baked, sheltering wall.
Beech trees in a golden haze;
Hardy sumachs all ablaze,
Glowing through the silver birches.
How that pine tree shouts and lurches!
From the sunny door-jamb high,
Swings the shell of a butterfly.
Scrape of insect violins
Through the stubble shrilly dins.
Every blade's a minaret
Where a small muezzin's set,
Loudly calling us to pray
At the miracle of day.
Then the purple-lidded night
Westering comes, her footsteps light
Guided by the radiant boon
Of a sickle-shaped new moon.


This poem is in the public domain.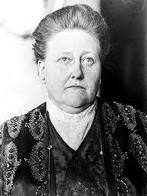 Amy Lowell (1874 - 1925) was born in Brookline, Massachusetts, to a family of significant wealth and social standing. In keeping with the standards of the time, she received little formal education and was, in fact, a notoriously poor speller, but she was an avid and discriminating collector of books, traveled extensively, and educated herself in many areas. Amy began writing and publishing when she was in her mid-twenties and, at one point, was publishing a book a year. A large, imposing woman fond of smoking cigars, Amy was a good promoter and a vocal advocate of poetry; that plus her reputation for eccentricity brought sell-out crowds to her readings and lectures.
anne.lehman2929@att.net:
"Then the purple-lidded night/ Westering comes," lovely--
Posted 09/21/2014 11:52 AM