Welcome to Your Daily Poem!
This site exists for one purpose only: to help dispel the ugly myth that poetry is boring. Granted, a lot of poetry is boring, but you won't find it here. At Your Daily Poem, you'll find poetry that is touching, funny, provocative, inspiring, and surprising. It may punch you in the gut, it may bring tears to your eyes, it may make you laugh out loud, but it most assuredly will not bore you.
Poetry on YDP--by poets living and long dead, famous to completely unknown--is specially selected for accessibility and appeal. If you enjoy the site, please pass it along; there's a "Share" button below to make that easy. And if you'd like to add a bit of poetry to your life on a regular basis, use the "Subscribe" button at the left and we'll deliver a poem directly to your mailbox daily, every Monday, or once a month.
You're encouraged to comment on any of the poems you see featured here; a simple registration process will allow you to do that. Registering will also allow you to participate and comment at the YDP Open Mic, where you can share your own poetry and get helpful feedback. Please bear in mind that Your Daily Poem attracts readers of all ages and mindsets; comments that are crude, insensitive, or inflammatory are unwelcome and will be removed.
Thanks so much for visiting. Content here is updated daily, so come back often or, better yet, become part of the YDP family and enjoy private commentary shared only with subscribers.

Remember: a poem a day keeps the doldrums away!
Dreams
by
Tica Tallent
I planted pansies today -
They smiled as I rescued them -
And pushed them straight into the black earth.
Purple ones with inquiring faces,
Yellow ones with halos all around -
And my favorite - white - so regal and yet so humble
Nodding in agreement to the wind.
I planted pansies today.
I planted hope for sure.
© 2009 by Tica Tallent
Used with the author's permission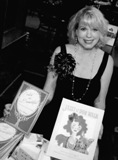 Tica Tallent lives in Anderson, South Carolina. A graduate of the University of South Carolina with a master's degree from Clemson University, Tica taught elementary school for ten years before switching careers to become a model and personal shopper. She currently teaches modeling and etiquette classes at the Anderson Art Center. Tica, the author of two books, has written poetry throughout her life but began using it as a way to heal and encourage others after the death of her father in 2007. Learn more about her at www.ticatallent.com.
Barry:
Another beautiful little gem.
Posted 11/23/2014 06:12 AM
erinsnana:
Nice...
Posted 11/23/2014 05:32 AM