Welcome to Your Daily Poem!
This site exists for one purpose only: to help dispel the ugly myth that poetry is boring. Granted, a lot of poetry is boring, but you won't find it here. At Your Daily Poem, you'll find poetry that is touching, funny, provocative, inspiring, and surprising. It may punch you in the gut, it may bring tears to your eyes, it may make you laugh out loud, but it most assuredly will not bore you.
Poetry on YDP--by poets living and long dead, famous to completely unknown--is specially selected for accessibility and appeal. If you enjoy the site, please pass it along; there's a "Share" button below to make that easy. And if you'd like to add a bit of poetry to your life on a regular basis, use the "Subscribe" button at the left and we'll deliver a poem directly to your mailbox daily, every Monday, or once a month.
You're encouraged to comment on any of the poems you see featured here; a simple registration process will allow you to do that. Registering will also allow you to participate and comment at the YDP Open Mic, where you can share your own poetry and get helpful feedback. Please bear in mind that Your Daily Poem attracts readers of all ages and mindsets; comments that are crude, insensitive, or inflammatory are unwelcome and will be removed.
Thanks so much for visiting. Content here is updated daily, so come back often or, better yet, become part of the YDP family and enjoy private commentary shared only with subscribers.

Remember: a poem a day keeps the doldrums away!
Death by Chrysalis
by
Danny Earl Simmons
Not everything that dies becomes a moldering rot
like the sticky black ooze of the weeds of ancient seas.

Take that wooly mammoth, for instance, found in a block
of ice on the edge of the middle of some frozen nowhere,
flowers half-chewed in its mouth. What luck to be unlucky
in such a way – in a cold flash just after a little dinner-salad –
so that, all these centuries later, heads wag in disbelief
and grunt smirks at the shaggy once was of him.

And what of the death by chrysalis of the caterpillar –
a voracious, needy, earthy thing that dies from cramp
and forced revision only to be resurrected with two thin
surprises connected lightly to the same center of it all?


This poem first appeared in Pirene's Fountain (Fall/Winter 2011).
Used here with the author's permission.
Post/view comments for this poem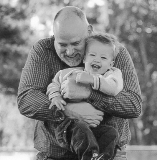 Danny Earl Simmons has lived in the Mid-Willamette Valley of Oregon for more than 30 years. A graduate of Corvallis High School and a friend of the Linn-Benton Community College Poetry Club, he is an active member of the Albany Civic Theater. Read more of Danny's work at http://dannyearlsimmons.blogspot.com/.