This site exists for one purpose only: to help dispel the ugly myth that poetry is boring. Granted, a lot of poetry is boring, but you won't find it here. At Your Daily Poem, you'll find poetry that is touching, funny, provocative, inspiring, and surprising. It may punch you in the gut, it may bring tears to your eyes, it may make you laugh out loud, but it most assuredly will not bore you.
Poetry on YDP—by poets living and long dead, famous to completely unknown--is specially selected for accessibility and appeal. If you enjoy the site, please tell others about it; there's a "Share" button on the left to make that easy.
Thanks so much for visiting—and remember: a poem a day keeps the doldrums away!
Reflection
by
Joseph Mills
When did we become aware of the moon?
We must have had it pointed out as kids,
our parents drinking in metal patio chairs,
calling us over, pointing upward, and saying,
"Look! Look at that!", their attention and wonder
more remarkable to us than the object itself.
But when did we too begin to be moved?
And when did we begin trying to get others
to notice the moon phasing across the dark
or day sky, now as a wafer, now a scythe?
We shift from buttoning our clothes to being
startled into awe by the workings around us.
"Look!" we say, temporarily illuminated,
our children disconcerted by our marveling.


This poem previously appeared in Postcard Poems and Prose Magazine.
Used here with permission.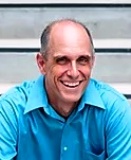 Joseph Mills teaches at the University of North Carolina School of the Arts. He is currently walking his dog a great deal. Joe has published six collections of poetry and is working on a seventh, about dance.. Last year, he published his debut collection of fiction, Bleachers: 54 Linked Fictions. Learn more about Joe at www.josephrobertmills.com.
There are no comments for this poem yet.