Welcome to Your Daily Poem!
This site exists for one purpose only: to help dispel the ugly myth that poetry is boring. Granted, a lot of poetry is boring, but you won't find it here. At Your Daily Poem, you'll find poetry that is touching, funny, provocative, inspiring, and surprising. It may punch you in the gut, it may bring tears to your eyes, it may make you laugh out loud, but it most assuredly will not bore you.
Poetry on YDP--by poets living and long dead, famous to completely unknown--is specially selected for accessibility and appeal. If you enjoy the site, please pass it along; there's a "Share" button below to make that easy. And if you'd like to add a bit of poetry to your life on a regular basis, use the "Subscribe" button at the left and we'll deliver a poem directly to your mailbox daily, every Monday, or once a month.
You're encouraged to comment on any of the poems you see featured here; a simple registration process will allow you to do that. Registering will also allow you to participate and comment at the YDP Open Mic, where you can share your own poetry and get helpful feedback. Please bear in mind that Your Daily Poem attracts readers of all ages and mindsets; comments that are crude, insensitive, or inflammatory are unwelcome and will be removed.
Thanks so much for visiting. Content here is updated daily, so come back often or, better yet, become part of the YDP family and enjoy private commentary shared only with subscribers.

Remember: a poem a day keeps the doldrums away!
Politics
by
Ambrose Bierce
That land full surely hastens to its end
Where public sycophants in homage bend
The populace to flatter, and repeat
The doubled echoes of its loud conceit.
Lowly their attitude but high their aim,
They creep to eminence through paths of shame,
Till, fixed securely in the seats of pow'r,
The dupes they flattered they at last devour.
This poem is in the public domain.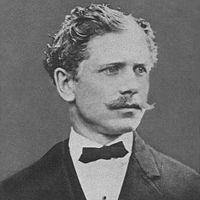 Ambrose Bierce (1842 – 1914, presumed) was born in Ohio, then raised on a farm in Indiana in a very large family with little money, but lots of books. He embarked on a newspaper career at the age of fifteen but, four years later, enlisted in the Union army and gave distinctive service there for many years before resuming his journalism career. Intelligent and ascerbic, Ambrose enjoyed writing satire and social criticism, and was lauded for a distinctive style which he displayed in multiple genres; in particularly, he is considered a master of the American short story.
In a bizarre, late-life adventure, Ambrose traveled to Mexico and began traveling as an "observer" with Pancho Villa's army. He was last seen in Chihuahua and last heard from on the day after Christmas in 1913; no one knows what became of him, though there have been several movies and books speculating on his demise and final days.
forrsher2:
Wonderful and eloquent statement of truth. I see our dupes being devoured every day.
Posted 05/26/2015 06:05 AM
Supa:
Sad but true. Maybe any idiot can write a poem but not a good one. This is beautifully written with a good command of English.
Posted 05/26/2015 05:18 AM
Katrina:
Any idiot can write a poem.
Posted 05/26/2015 04:21 AM
msruff:
Great writer and, I see, grey port, too. Right on the money.
Posted 05/26/2015 03:57 AM
rhonasheridan:
Horribly true.
Posted 05/26/2015 01:10 AM