This site exists for one purpose only: to help dispel the ugly myth that poetry is boring. Granted, a lot of poetry is boring, but you won't find it here. At Your Daily Poem, you'll find poetry that is touching, funny, provocative, inspiring, and surprising. It may punch you in the gut, it may bring tears to your eyes, it may make you laugh out loud, but it most assuredly will not bore you.
Poetry on YDP—by poets living and long dead, famous to completely unknown--is specially selected for accessibility and appeal. If you enjoy the site, please tell others about it; there's a "Share" button on the left to make that easy.
Thanks so much for visiting—and remember: a poem a day keeps the doldrums away!
In April
by
Sarah Russell
I wake to birds calling to spring
and rain, slow and steady,
nudging the tulips. In the gray
of my morning walk, the forsythia
are moments of sunshine
against the monotone of clouds —
blossoms tumbling down the hillside
like children laughing.


© by Sarah Russell.
Used with the author's permission.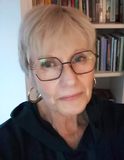 Sarah Russell lives in State College, Pennsylvania with a patient husband and a curly dog named Smudge. Her poetry and short fiction have appeared in a variety of magazines and journals and her first collection, I Lost Summer Somewhere, will be published by Kelsay Press in May. Learn more about Sarah at www.SarahRussellPoetry.net.
wordartdjc:
Sweet amd so Springtime. I do love the brevity and last lines especially.
Posted 04/23/2019 09:59 AM
cork:
Very nice!
Posted 04/23/2019 08:43 AM
Larry Schug:
A splotch of color in a black and white photo.
Posted 04/23/2019 07:13 AM
paula:
Lovely language!
Posted 04/23/2019 05:23 AM