This site exists for one purpose only: to help dispel the ugly myth that poetry is boring. Granted, a lot of poetry is boring, but you won't find it here. At Your Daily Poem, you'll find poetry that is touching, funny, provocative, inspiring, and surprising. It may punch you in the gut, it may bring tears to your eyes, it may make you laugh out loud, but it most assuredly will not bore you.
Poetry on YDP—by poets living and long dead, famous to completely unknown--is specially selected for accessibility and appeal. If you enjoy the site, please tell others about it; there's a "Share" button below to make that easy.
Thanks so much for visiting—and remember: a poem a day keeps the doldrums away!
Daylilies
by
Merle Hazard
Vibrant tangerine blooms,
transplants from Mother's garden,
lighten the darkest corner of my yard
. . . smiling faces that greet the day
chorusing once upon a time.


© 2015 by Merle Hazard.
Used with the author's permission.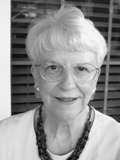 Merle Hazard lives in Macon, Georgia. Her poems have appeared in a number of secular and inspirational publications. A home health and hospice nurse for many years, she worked as a director of programs as well as at bedsides. Now retired, Merle enjoys reading, walking, playing bridge, and spending time with friends and family--including her two sons and five grandchildren.
New comments are closed for now.
barbsteff:
Exquisite Merle. Congrats. Barb Germiat
Posted 06/25/2016 02:59 PM
ElizabethP:
Brilliant. And tangerine. ;-) Love it!
Posted 06/25/2016 12:05 PM
Jean Colonomos:
Jean Colonomos Splendid!
Posted 06/25/2016 10:34 AM
paradea:
Beautiful.
Posted 06/25/2016 09:52 AM
blueskies:
O,Yes! A delight to behold >...chorusing once upon a time. Thanks, Merle.
Posted 06/25/2016 07:34 AM
Ross Kightly:
Spang on! Hits a number of nails right smack on the head in such a small compass - lovely poem to start the day with - thanks folks!
Posted 06/25/2016 04:30 AM