In third grade, I punctured a sweet potatoís

middle with toothpicks, suspended it halfway

in a cup of water until sprout-like whiskers

swam along its bottom. On day nine leaves

crowned it.†I scooped out soil with my hands

and buried it up to its neck.†I am no stranger

to roots. Iíve laid down my own in places

where corn and tomatoes grow in vacant lots,

where cilantro and basil thrive on window sills

and in cities balanced on ancestorís bones.

†

Roots are hardy travelers, adaptable:

they float on water, cohere to wood,

burrow deep beneath foundations,

†

Used with the authorís permission.

†
†
Purchase a framed print of this poem.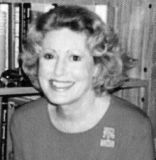 Diana Anhalt, a former high school English and history teacher and a newsletter editor, was a longtime resident of Mexico City up until recently, but is now living in Atlanta, Georgia. She comes from a long line of wanderers, which might help explain why much of the fiction she has published deals with exile, expatriation, and identity. Her articles and book reviews have been published in both Mexico and the United States and she is the author of A Gathering of Fugitives: American Political Expatriates in Mexico 1948-1965, (Archer Books, 2001). Diana's poetry, which has appeared in numerous journals, tends to focus on human relationships and quirky situations.
†
†
New comments are closed for now.
transitions:
I loved "roots are hardy travelers"; how true that is and what a lovely poem! Thank you ~ Judy
Posted 03/30/2012 01:34 PM
69Dorcas:
What a nice reminder to take root and to bloom where we are. It makes my steadfast worth it with the support of your childhood reflection. Thanks.
Posted 03/30/2012 08:31 AM
karenpaulholmes:
A delightful poem, well crafted. Excellent line and stanza breaks. Well done, Diana, my friend.
Posted 03/29/2012 06:11 PM
Wilda Morris:
Diana, This is a moving poem. I feel as though you are writing about me. I have deep roots, but have lived in several places - and feel a deep need to be a bit of a vagabond. Thanks for sharing it!
Posted 03/29/2012 06:08 PM
Tyler Gabrysh:
The imagery is moved along by a steady and somehow unique rhythm that perfectly fits. Well done.
Posted 03/29/2012 12:29 PM
wendy morton:
Our own roots, burrowing deep. What a fine poem this is.
Posted 03/29/2012 11:09 AM
Glen Sorestad:
This appeals to that little bit or considerable portion of vagabond that is in us all. Very touching.
Posted 03/29/2012 10:30 AM
travtales:
As always, Diana,you create a vivid picture with layers of meaning and feling. Hope this means you are becoming rooted in your new home! Jill
Posted 03/29/2012 09:37 AM
lincolnhartford:
I too was moved. Encouragement for our jouneys, us wanderers. And though the poem started with you, its otherness gave us sweet connection. Not to mention the pleasure of your lyric lines.
Posted 03/29/2012 09:17 AM
dotief@comcast.net:
Lovely. The imagery is "spot on," and I too am moved by the gentle message. Great poem!
Posted 03/29/2012 07:56 AM
rksanders@charter.net:
I am moved by your poem. Something I know within myself is suddenly articulated, like that magnolia blazing among the evergreens at the edge of the woods. Thank you.
Posted 03/29/2012 07:34 AM