Find me a tree from which
all good words for poetry
hang like cleanerís tags,
the breeze just right to turn
each one toward me, just as
I need them, just-in-time
delivery, just as modern car
makers stoke with parts their
one-car-every-minute output,
just as Emily, first in the garden,
plucked all the good words,
leaving slim pickings
for gleaners like me.
© by Ed Hujsak.
Used with the authorís permission.
Purchase a framed print of this poem.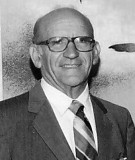 Edward Hujsak is a rocket engineer turned writer, artist, sculptor, and builder of fine furniture and musical instruments. A chemical engineering graduate of the University of New Hampshire, Edward worked on propulsion systems at General Dynamics during development of the Atlas and Centaur rockets. He was propulsion engineer on John Glenn's famous orbital flight and served as chief of preliminary design at General Dynamics Astronautics Division for ten years, accumulating more than a dozen patents in the aerospace field. Edward is the author of numerous published books and has written commentaries for a variety of journals and magazines, including Spaceflight, Space News, Machine Design, San Diego Reader and MAKE magazine. He lives in La Jolla, California.
New comments are closed for now.
laurasalas:
This is fantastic! But now I'm worried my black thumb will hurt more than just my yard:>(
Posted 04/02/2012 05:22 PM
tannerlynne:
yes the good words have been plucked by Emily and by others....like dappled!
Posted 04/01/2012 03:02 PM
dotief@comcast.net:
I wish I had such a tree in my garden as well!! Nice.
Posted 04/01/2012 12:06 PM
Kathy:
I'm still looking for that word "tree" to pluck a few words that would make my verse truly memorable. Great poem and Emily surely doesn't have a monopoly on words, does she?
Posted 04/01/2012 10:35 AM
marenomitchell:
But how fun to fight with myself over the "slim pickings"!
Posted 04/01/2012 07:52 AM
69Dorcas:
A new word for poetry during poetry month. A plucked word! How clever. I love it.
Posted 04/01/2012 06:55 AM
Tabatha:
"Find Me A Word Tree" is a great way to start National Poetry Month!
Posted 04/01/2012 04:16 AM