Used with the author's permission.
Purchase a framed print of this poem.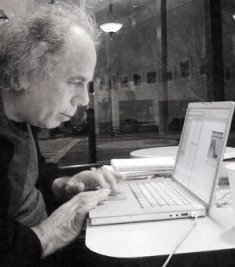 Dennis Bernstein is a long-time, front line reporter specializing in human rights. His articles have appeared widely in such publications as the Boston Globe, the New York Times, The Progressive, and the Nation, and he was chosen by Pulse Media as one of "20 Top Global Media Figures of 2009." Dennis's artist books, co-authored with Warren Lehrer, are in the Special Books Collections of the Museum of Modern art in New York City and other major museums around the world. His first full collection of poetry, Special Ed, was just released by New York Quarterly Press; read reviews here. Dennis lives in San Francisco.
Joe Sottile:
I love the line "on freshly minted wings." Bravo!
Posted 04/20/2012 12:03 AM
KevinArnold:
A muted, powerful poem.
Posted 04/15/2012 12:36 PM
marenomitchell:
This poem pulses with motion. Thanks.
Posted 04/15/2012 11:12 AM
dotief@comcast.net:
I wish I could be there! Very nice!
Posted 04/15/2012 08:25 AM
69Dorcas:
Reflective. I caught the suggestion of the Trinity from the three red-tails. Nicely done.
Posted 04/15/2012 07:01 AM