This poem has been temporarily removed to accommodate a print publication opportunity.
Please visit our Archives to enjoy other poems by Changming in the meantime.
Purchase a framed print of this poem.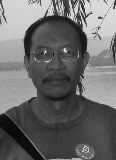 Changming Yuan, 4-time Pushcart nominee and author of Chansons of a Chinaman, grew up in rural China and published several monographs before moving to Canada. With a PhD in English, Yuan currently teaches in Vancouver and has had poetry appearing in nearly 550 literary publications worldwide, including Asia Literary Review, Best Canadian Poetry, BestNewPoemsOnline, Exquisite Corpse, London Magazine, Paris/Atlantic, Poetry Kanto, SAND and Taj Mahal Review.
New comments are closed for now.
janlynette:
Lovely! I agree with 69Dorcas
Posted 08/13/2012 01:43 PM
69Dorcas:
Interesting poem of culture. Love it. More like such is necessary in poetry.
Posted 08/12/2012 09:24 PM
Linda Muldoon:
Yes!
Posted 08/12/2012 03:35 PM
rcstewart3:
So lovely! I appreciate all the ideas so artfully shared. Perhaps, too, like a vessel to capture life-giving water...Thank you.
Posted 08/12/2012 11:14 AM
marenomitchell:
Seemingly simple, exquisitely complicated.
Posted 08/12/2012 10:36 AM
tiddles:
So observant and so well stated. Causes pause and reflection. Thank you for these words. Marilyn Zelke-Windau
Posted 08/12/2012 09:01 AM
mimi:
love everything about this poem!
Posted 08/12/2012 08:08 AM
jeanie:
wow. surprising, simple and lovely poem.
Posted 08/12/2012 06:28 AM