There's nothin' like a big parade
to get a town excited.
And when the rodeo's in town,
folks' interest is ignited.

For kids and grown-ups, old folks, too,
the excitement comes all sizes.
You pay your entrance fee up front
to help make up the prizes.

And all the clubs in town take part,
each plannin' their own entry.
They build their float then guard their work
with one old cowboy sentry.

But no one ever steals their plans,
I wouldn't now, would you?
They're too blamed busy with their own
to care what others do.

Of course the bands need tunin' up,
and march around the city.
And all the girls are sewin' clothes
to make themselves look pretty.

The horses know that somethin's up,
they're warshed six times a day!
And brushed and curried till they shine,
they don't know what t'say!

E Clampus Vitus comes to town
with all the tricks they carry.
Young couples often choose this day
to be the day they marry.

The people come from miles around
to see this annual treat.
And cheer the queen of this year's show
as she rides down the street.

And everyone's puffed up with pride,
a famous cowboy's picked to lead it.
This here's the rodeo parade,
there's nothin' that kin beat it!
© 2006 by Hal Swift.
Used with the author's permission.
Purchase a framed print of this poem.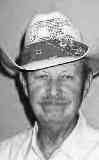 Hal Swift was born in 1928 in Speedway City, Indiana, on the 25th anniversary of the Wright brothers' flight at Kitty Hawk. When he was eight years old, his family moved to Phoenix, Arizona, where, as a teenager, Hal learned to play a bass fiddle and worked with local cowboy musicians such as Marty Robbins. His broadcast career of nearly fifty years culminated with induction into the Nevada Broadcast Association Hall of Fame in 2005. Hal's career was interrupted briefly when he served in the U.S. Navy as a Morse code radio operator with the Japan occupation forces, and in the Korean War. Married since 1952 to his wife, Carol, he is the father of three grown sons, has fourgrand daughters, and one grandson. His hobbies have included such disparate activities as martial arts, building model ships and airplanes, cartooning, semantics and, of course, writing. Now semi-retired, Hal and his wife currently live in Sparks, Nevada, where he continues to study and write about the West and its people. Learn more about Hal here, and read some of the background and inspiration for his books here and here.
New comments are closed for now.
69Dorcas:
Nice view of a parade brought to words. I sure enjoyed the human interest. Thanks.
Posted 08/18/2012 07:22 AM