Every August, the principal gives

the same speech to the families

stacked on the gym bleachers.

Through this school comes our future,

senators, mayors, doctors, and lawyers.

He doesn't mention through the school

also comes future plumbers, nurses,

and custodians, and there's not a word

about the future thieves, deadbeats,

and arsonists, or that some of the ones

who go through do so with difficulty,

blocking the way like kidney stones

until they're painfully passed. No one

points out a manager at McDonalds

or DMV clerk could say the same.

We go through the doors and halls

together then tell ourselves that we

we take the roads less travelled by.

But that speech comes later. In June.

In August, the parents sit, listening

and fantasizing one day their kids

will be mentioned as famous alumni

while, next to them, the children

wait, with varying degrees of patience,

knowing this isn't really about them,

but eager to pass through towards

the unspeakable future that will be.

 

 

From Sending Christmas Cards to Huck and Hamlet (Press 53, 2012).

Used with the author's permission.
Purchase a framed print of this poem.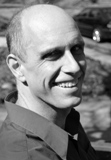 Joe Mills is a faculty member at the University of North Carolina School of the Arts, where he holds the Susan Burress Wall Distinguished Professorship in the Humanities. He is also Poet-in-Residence at Salem College. Joe's published work includes four volumes of poetry, fiction, drama, criticism and, with his wife, Danielle Tarmey, he cowrote A Guide to North Carolina's Wineries. Says Joe, "Although I believe my written work is getting better as I age, I still can't master bar chords on the guitar." Enjoy his blog, "Icing and Ink," and learn more about him at www.josephrobertmills.com.
Ginny C.:
Good poem. And people should not only be judged by their jobs or professions. The honest DMV clerk who takes good care of his family, the waitress who is kind, the grocery store manager with the wonderful singing voice...all of these people deserve recognition too.
Posted 08/20/2012 02:42 PM
Jo:
Well done, Joe. How many of these addresses we have sat through, the kids besides us exactly as you have described. I agree with Dottie--finding student gifts and talents and nurturing them-- college isn't always the answer.
Posted 08/20/2012 02:04 PM
brownr:
Congratulations, Joe, on this post. I remember the first faculty meeting of the year when the principal announced, "We have a new computer program that will prevent tardies. Training for it will be Friday 8-10. Attendance is mandatory." Your principal is a little higher-minded. Good luck with the new school year.
Posted 08/20/2012 12:38 PM
pwax:
A poem that points out truths usually not spoken aloud. "the unspeakable future" --wonderful choice of words.
Posted 08/20/2012 11:27 AM
dotief@comcast.net:
I think this is a very truthful poem. Having taught all manner of student in my 35 years, I can honestly say that not all should be pushed toward college. We too often minimize the value of hard honest labor done by the hands. What we need to encourage is the finding of student gifts and talents and then nurturing those things. That way there should be fewer "kidney stone" kids to grow up unfulfilled and unhappy.
Posted 08/20/2012 09:04 AM
Marilyn L Taylor:
Timely, and timeless, too. Well done, Joe!
Posted 08/20/2012 07:44 AM
Janet Leahy:
Great poem, I'm sending it to several administrators. Good to remember it takes a village for life to run smoothly, and all types of work have dignity.
Posted 08/20/2012 07:05 AM
jeanie:
nice poem, joe. love the eagerness of the kids on the bleachers ... waiting to claim their own future, whatever that is.
Posted 08/20/2012 07:02 AM
69Dorcas:
I disagree. Great things come from kids who are encouraged.
Posted 08/20/2012 04:17 AM