the boulders of your teeth

and flutters in the wind like a man's tie

I follow in your trotting path

to snort and wiggle your golden body

and grin when you come to greet me

your whip-like tail waving in arcs

with the decade, is a man's

because every moment for you

is a prelude to enjoyment

even now as we wait for life

into its sure-flowing stream

we move within the shadow

cast by the coming loss of you

and fall with your living

find comfort in the knowledge

that you store in the walnut-shaped

where among all the things you know

is the best one: that if you wait long enough

something good will always come along.

Used with the author's permission.
Purchase a framed print of this poem.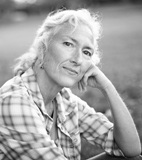 Tamara Madison teaches English and French at a public high school in Los Angeles. Raised on a citrus farm in the California desert, Tamara's life has taken her many places, including Europe and the former Soviet Union, where she spent 15 months in the 1970s). A swimmer and dog lover, Tamara says, "All I ever wanted to do with my life was write, and I mostly write poetry because it suits my lifestyle; I like the way one can say so much in the economical space of a poem."
New comments are closed for now.
apersephone:
I love the view of your (our) eyes watching the dog moving and being with the animal in its environment! Beautiful!
Posted 09/07/2012 11:05 AM
SGLittle:
One of my very favorites of your poems, especially having known the total exuberance and joi de vivre of one special exuberant canine "nephew" who touched my heart, too.... SGLittle
Posted 08/31/2012 11:07 AM
ghctenmile@earthlink.net:
You did a great job here. "...in the knowledge/ that you store in the walnut-shaped/ bump on your skull/...that if you wait long enough/ something good will always comes along." -- the wonder of a dog! Thanks. GHChappell
Posted 08/25/2012 04:20 PM
dotief@comcast.net:
How wonderful! The bond we have with dogs and cats and all other creatures is beautifully reflected here. Great poem!
Posted 08/25/2012 08:27 AM
StaciBell:
beautiful <3<3
Posted 08/25/2012 08:17 AM
tiddles:
Such true observations. You could have been describing my golden retriever with her rolling, grinning, snorting, and head bump. They are wonders, aren't they--and great diggers, too! Thank you for this warm poem. Marilyn Zelke-Windau
Posted 08/25/2012 07:40 AM
tiddles:
Such true observations.I felt like you were describing my golden retriever with her rolling, snorting, grinning, and skull bump. They are wonders, aren't they--and great diggers, too! Thanks for this poem! Marilyn Zelke-Windau
Posted 08/25/2012 07:37 AM
tiddles:
Such true observations.I felt like you were describing my golden retriever with her rolling, snorting, grinning, and skull bump. They are wonders, aren't they--and great diggers, too! Thanks for this poem! Marilyn Zelke-Windau
Posted 08/25/2012 07:37 AM
Terri Kirby Erickson:
This is a wonderful, exuberant poem!
Posted 08/25/2012 06:54 AM