Previous

Nearing Menopause, I Run into Elvis at Shoprite
by
Barbara Crooker


Next
near the peanut butter. He calls me ma'am, like the sweet
southern mother's boy he was. This is the young Elvis,
slim-hipped, dressed in leather, black hair swirled
like a duck's backside. I'm in the middle of my life,
the start of the body's cruel betrayals, the skin beginning
to break in lines and creases, the thickening midline.
I feel my temperature rising, as a hot flash washes over,
the thermostat broken down. The first time I heard Elvis
on the radio, I was poised between girlhood and what comes next.
My parents were appalled, in the Eisenhower fifties, by rock
and roll and all it stood for, let me only buy one record,
"Love Me Tender," and I did.
I have on a tight orlon sweater, circle skirt,
eight layers of rolled-up net petticoats, all bound
together by a woven straw cinch belt. Now I've come
full circle, hate the music my daughter loves, Nine
Inch Nails, Smashing Pumpkins, Crash Test Dummies.
Elvis looks embarrassed for me. His soft full lips
are like moon pies, his eyelids half-mast, pulled
down bedroom shades. He mumbles, "Treat me nice."
Now, poised between menopause and what comes next, the last
dance, I find myself in tears by the toilet paper rolls,
hearing "Unchained Melody" on the sound system. "That's all
right now, Mama," Elvis says, "Anyway you do is fine." The bass
line thumps and grinds, the honky tonk piano moves like an ivory
river, full of swampy delta blues. And Elvis's voice wails above
it all, the purr and growl, the snarl and twang, above the chains
of flesh and time.
From Radiance (Word Press, 2005).
Used with the author's permission.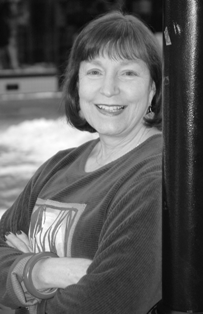 Barbara Crooker's poems have appeared in numerous magazines, journals, and anthologies and have been featured on the BBC, the ABC (Australian Broadcasting Company), The Writer's Almanac, and in the Poetry at Noon series at the Library of Congress. Her awards include the Thomas Merton Poetry of the Sacred Award, three Pennsylvania Council on the Arts Creative Writing Fellowships, fifteen residencies at the Virginia Center for the Creative Arts, a residency at the Moulin à Nef in Auvillar, France, and a residency at The Tyrone Guthrie Centre in Annaghmakerrig, Ireland. Barbara lives in Fogelsville, Pennsylvania; read more about her at www.barbaracrooker.com.
penhart:
Ah, those were the days, Barbara, (both the menopausal and the "Eisenhower fifties", and you've captured them perfectly! I had a red felt circle skirt :)!
Posted 09/18/2014 04:42 PM
Jo:
One of my favorites, Barbara.It captures so many memories.
Posted 09/18/2014 12:33 PM
r1manchester:
"I can't help falling in love"...with this poem.
Posted 09/18/2014 11:55 AM
gigi:
Oh, those crinolines. You captured it perfectly, Barbara.
Posted 09/18/2014 11:13 AM
paradea:
My mother wanted me to marry Elvis. Later, I took her to one of his concerts and she almost got in a fight with some people who wouldn't sit down so she could see. Love to see them both perform again!!! Great poem.
Posted 09/18/2014 09:08 AM
KevinArnold:
I like the specificity of the grocery store, near the peanut butter and "I find myself in tears by the toilet paper rolls, / hearing "Unchained Melody" on the sound system."
Posted 09/18/2014 09:07 AM
Marilyn L Taylor:
Makes me want to run out this very minute and buy a pair of blue suede shoes. Thank you, Barbara!
Posted 09/18/2014 09:06 AM
Cindy:
I still love Elvis and this poem is perfect.
Posted 09/18/2014 08:52 AM
mimi:
o how I love this poem...it is so me too! thank you, Barbara for memories and smiles this morning..
Posted 09/18/2014 08:02 AM
phebe.davidson@gmail.com:
Dearest Barbara---you get no argument from me!
Posted 09/18/2014 06:46 AM
rhonasheridan:
I still play Sinatra at every oportunity. When I do I smile - every time. And I hate Heavy Metal. I scowl.
Posted 09/18/2014 01:06 AM
phoswald:
I don't want no other love, baby, it's just you I'm thinkin' of - this poem brings back memories of good times never to be forgotten.
Posted 09/17/2014 11:45 PM