Look at you, red hair spiked and over-done kohl

around your eyes, with your right foot planted north, 

the other south, you look as if you're on a surfboard

instead of a dried sunflower pod ripe with seeds,

its thick stem curving downward, supporting

your Cardinal weight. You are a splash

of remarkable on this warm, waveless day,

so unaware as you snap the hull, munch

the kernel, that someone planted this for you

knowing you couldn't resist. She couldn't resist

either, captured you into a digital memory  

born of golden joy, now feathered red

 

 

© by Donna Pflueger. Used with the author's permission.

Photo by Susan Beaulé.
Purchase a framed print of this poem.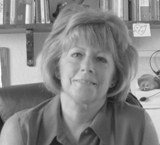 Donna Pflueger lives in the high desert of Cottonwood, Arizona where her inspiration to write occurs by simply stepping outside. An avid walker, she finds the steady rhythm helps her create. Her husband, John, of 35 years and dog, Lewie, are her constant writing companions; one listens and critiques her work, and the other sleeps right through it. Donna's poetry has appeared in Your Daily Poem, All Things Girl, M
o
bius
(where she won the 2011 Editor-In-Chief?s Choice Award), The Poetry Magazine, and is upcoming in The Healing Muse. 
New comments are closed for now.
69Dorcas:
Lovely, nature completely captured, if that is possible.
Posted 09/11/2012 04:07 PM
transitions:
Love the oh-so-original 'splash of remarkable' the lovely poem with the wonderful photo that imspired it. A day late to comment but a poem to remember. Judy
Posted 09/10/2012 11:15 AM
dotief@comcast.net:
I love cardinals and I love this poem. It is just so right!
Posted 09/09/2012 06:57 PM
Larry Schug:
I, too, like the surfboard image, feet planted north and south. Good eye!
Posted 09/09/2012 06:03 PM
Larry Schug:
I, too, like the surfboard image, feet planted north and south. Good eye!
Posted 09/09/2012 06:03 PM
marenomitchell:
"Remarkable" images of a bird not ordinarily remarked upon. Thanks.
Posted 09/09/2012 06:00 PM
Anjie:
I love the "surfboard" reference. Lovely poem and photo. Hats of you and Susan, too!
Posted 09/09/2012 12:08 PM
Jo:
Donna, Elated to see your poem up here. The poem itself and the photography--all"a splash of remarkable" on this Sunday morning in September.
Posted 09/09/2012 10:55 AM