The dear old woman in the lane
Is sick and sore with pains and aches,
We'll go to her this afternoon,
And take her tea and eggs and cakes.
We'll stop to make the kettle boil,
And brew some tea, and set the tray,
And poach an egg, and toast a cake,
And wheel her chair round, if we may.
This poem is in the public domain.
Purchase a framed print of this poem.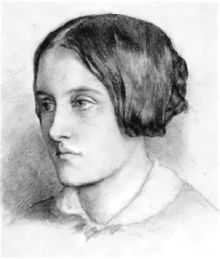 Christina Rossetti (1830 - 1894) was born in England to a family of great literary and artistic talent. A beauty who frequently modeled for her brother Dante and other respected artists of her day, Christina began writing as a child and published her first poem at eighteen. A kind-hearted woman who spent many years as a charity volunteer, Christina's devout faith was often a central theme in the three books of poetry and four books of devotions she wrote during her life. Though her poems show up consistently in contemporary films, television shows, and musical compositions, her most familiar work is "In the Bleak Midwinter," which, when set to music, became a beloved Christmas carol.
New comments are closed for now.
Donal Mahoney:
Thanks for running this poem. The simple language expressing kindness helps to bring the "season" back into perspective quite early this morning. On
Posted 12/05/2012 05:54 AM