We decide to take a break from the eating, drinking,

and arguing — our traditional holiday pastimes —

to walk around the ice-encased neighborhood.

In the hallway, we sort through the piles of coats,

hats, and gloves, pulling out what we think we need,

and when I get to the door my father calls me back

to drape a scarf around my neck. In my forties,

I don't like scarves anymore than when I was six,

but, now, having kids, I recognize what his fingers

are trying to say as they adjust the wool, and, I hope,

he recognizes what I'm trying to say by not moving.

It's not much, but since neither of us needs anything

the other can buy, we try to exchange what we can,

a protective touch and a willingness to be touched.

From Sending Christmas Cards to Huck and Hamlet (Press 53, 2012).

Used with the author's permission.
Purchase a framed print of this poem.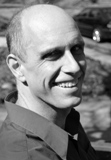 Joe Mills is a faculty member at the University of North Carolina School of the Arts, where he holds the Susan Burress Wall Distinguished Professorship in the Humanities. He is also Poet-in-Residence at Salem College. Joe's published work includes four volumes of poetry, fiction, drama, criticism and, with his wife, Danielle Tarmey, he cowrote A Guide to North Carolina's Wineries. Says Joe, "Although I believe my written work is getting better as I age, I still can't master bar chords on the guitar." Enjoy his blog, "Icing and Ink," and learn more about him at www.josephrobertmills.com.
New comments are closed for now.
barbara eknoian:
I loved this poem!
Posted 12/27/2012 08:18 PM
DawnDe:
This is so true of men. I am so glad you found a way to put it into words!
Posted 12/23/2012 03:29 PM
marenomitchell:
Thanks for THIS gift!
Posted 12/23/2012 09:59 AM
Donna Pflueger:
Joe, you have given me a poem for each day of the year, so universal in its meaning. It is a reminder to allow love and caring - even when we think we don't need it - to happen. Thank you.
Posted 12/23/2012 09:18 AM
Donna Pflueger:
Posted 12/23/2012 09:15 AM
mimi:
lovely poem--reminds me so much of my mother still trying to mother me, her 55 year old child...thank you for the memory today, she's been gone 15 years.. Sharon Auberle
Posted 12/23/2012 08:43 AM
erinsnana:
I love this poem! Who needs to master bar chords when you can come up with images like this!
Posted 12/23/2012 07:56 AM
Wilda Morris:
A wonderful poem. I keep telling my children I don't want anything for Christmas that I'll have to find a place to put. Maybe I should give them a copy of this poem.
Posted 12/23/2012 07:27 AM
Janet Leahy:
A precious moment in time captured, thanks Joe
Posted 12/23/2012 07:26 AM
CamilleBalla:
I love this! So very well said!
Posted 12/23/2012 07:14 AM
Katrina:
Pockets of people in the dark cloak of winter bulge festive good will.
Posted 12/23/2012 06:46 AM