brown
skin.
© by Danny P. Barbare.
Used with the authorís permission.
Purchase a framed print of this poem.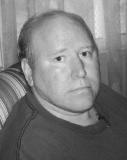 Danny P. Barbare has been writing and publishing poetry for many years. He likes pecan pie, going on long walks, and visiting the mountains and coastal Carolinas. Danny lives in Greenville, South Carolina.
Eiken:
Danny, love the structure of this poem, it is almost like a haiku or tanka in its beauty.
Posted 01/17/2013 06:41 AM
RICHARD:
Interesting structure. Great wording! Thanks, Danny. Richard
Posted 01/16/2013 10:32 PM