I remember once, back in Indiana,
when things started gettin' strange,
they's a big discussion about the cause,
by the boys at the county Grange.

Strange things was happenin' to ever'one,
none of it really a crime.
But the general feelin' was it all was caused
by your Daylight Savin's Time.

One ol' boy said that all of 'is cows,
got picky about what they ate.
Another said his hens stopped layin'
'cause bedtime come too late.

The hands missed breakfast because it was served
a long time before they woke.
The roosters crowed an hour before sunup,
and the pigs all thought it's a joke.

The kids all had to get up in the dark,
an' you know that weren't no fun.
They was hundreds of things folks had to do,
and do 'em without no sun.

Yeah, strange things happened to ever'one,
and it made no reason or rhyme.
But the general feelin' was it all was caused
by your Daylight Savin's Time.
© by Hal Smith.
Used with the author's permission.
Purchase a framed print of this poem.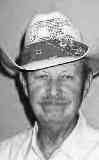 Hal Swift was born in 1928 in Speedway City, Indiana, on the 25th anniversary of the Wright brothers' flight at Kitty Hawk. When he was eight years old, his family moved to Phoenix, Arizona, where, as a teenager, Hal learned to play a bass fiddle and worked with local cowboy musicians such as Marty Robbins. His broadcast career of nearly fifty years culminated with induction into the Nevada Broadcast Association Hall of Fame in 2005. Hal's career was interrupted briefly when he served in the U.S. Navy as a Morse code radio operator with the Japan occupation forces, and in the Korean War. Married since 1952 to his wife, Carol, he is the father of three grown sons, has fourgrand daughters, and one grandson. His hobbies have included such disparate activities as martial arts, building model ships and airplanes, cartooning, semantics and, of course, writing. Now semi-retired, Hal and his wife currently live in Sparks, Nevada, where he continues to study and write about the West and its people. Learn more about Hal here, and read some of the background and inspiration for his books here and here.
New comments are closed for now.
Dorcas:
Delightful. I don't mind gettin' up in the dark with no stars. Got somethin' to wait for...just let it dawn on ya' ...
Posted 03/10/2013 11:00 AM
KevinArnold:
What a great poem for "Spring Forward Day." Was it Abraham Maslow who said "A first-rate soup is more creative than a second-rate painting?" I think so. Cowboy Poetry Rocks.
Posted 03/10/2013 10:45 AM