Disregard what they tell you—
when you jump: feet first
eyes first, cannonball knees into
chest.  Don't think about
how full the sky is how devastating
against goggles. The ripcord
is another detail your body
like right and left, gas and brake.
as though the world is Braille
and passing through each cloud,
you are a missile dispatched
by someone who knows missiles,
spinning out into nothing, rushing
to the corn fields, the ocean even,
answering all the questions you've
had strapped to your back,
you'll sway from puppet strings

and be right with the sky.


© by Ethan Joella.
Used with the author's permission.
Purchase a framed print of this poem.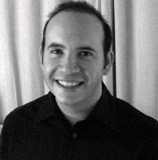 Ethan Joella is a college writing professor who lives in Pennsylvania and Delaware with his wife and daughters. He is a reader at Ploughshares as well as a 2010 Robert Olen Butler Short Fiction Award finalist and a 2008 Eric Hoffer finalist. Additionally, his work has appeared in
The International Fiction Review, Cicada
(forthcoming),
Berkeley Fiction Review
(forthcoming), 
The American, The Collagist, SNReview, Perigee, Stickman Review
, and
Journal of Microliterature.
New comments are closed for now.
sinkey:
Ethan, your poem is wonderful. I read it over and over (could feel the wind against me!!!)
Posted 04/17/2013 08:47 PM
sinkey:
Posted 04/17/2013 08:46 PM
Larry Schug:
I can see where jumping out of an airplane would cure writer's block! Nice poem; I especially like the metaphorical picture of dangling from puppet strings. Lots to think about in those words!
Posted 04/13/2013 03:12 PM
bfaybooks:
Fun! What a great EXPERIENCE in reading!
Posted 04/12/2013 10:36 PM
bfaybooks:
Fun! What a great experience in reading!
Posted 04/12/2013 10:35 PM
LindaCrosfield:
Almost makes me want to. Almost.
Posted 04/12/2013 01:36 PM
marenomitchell:
Thumbs up! Excellent poem.
Posted 04/12/2013 01:03 PM
Anne Harding Woodworth:
Ethan, what a happy thing to find your poem in my email today. Beautiful. Go FDU!
Posted 04/12/2013 12:18 PM
wendy morton:
As though the world is Braille!! As poets, isn't that how we read everything?
Posted 04/12/2013 10:34 AM
Katrina:
I love this. It energises me with the clarity of fresh air. Thank you.
Posted 04/12/2013 09:26 AM
KevinArnold:
What a fine poem. Bravo, Ethan Joella
Posted 04/12/2013 08:54 AM
njc:
Oh, this is the finest poem I've read in a long time! Thank you.
Posted 04/12/2013 08:53 AM
Jo:
Hi Ethan, Dispatched by one who knows missiles, you are a missile, you don't need to see, your hand reads the world in braille, and at last you're one with the sky. My idea of freedom--complete trust. Fully alive. Well done. I really like your poem.
Posted 04/12/2013 08:23 AM
Jo:
Hi Ethan, Dispatched by one who knows missiles, you are a missile, you don't need to see, your hand reads the world in braille, and at last you're one with the sky. My idea of freedom--complete trust. Fully alive. Well done. I really like your poem.
Posted 04/12/2013 08:23 AM
paradea:
Free-falling vicariously!! I love this!
Posted 04/12/2013 08:23 AM
Sylvia Little:
Nice to come this close to the experience, Ethan! To feel "right with the sky" is quite an image!
Posted 04/12/2013 08:06 AM
Carol Hauer:
Just reading this poem, my hands and feet began to perspire. Pretty vivid images here. Glad you enjoyed the ride, Ethan, but reading your poem is about as close to sky-diving as I want to get (and that obviously was pretty close).
Posted 04/12/2013 07:55 AM
gailcomorat:
I love "answering all the questions you've/had strapped to your back..." So many lovely lines!
Posted 04/12/2013 06:47 AM
laurasalas:
I have NO desire to skydive, but this is one of my favorite poems I've ever read here at ydp! "how devastating / the blowing wind feels / against goggles." and "as though the world is Braille" are my favorite bits.
Posted 04/12/2013 05:50 AM
MaryLeeHahn:
This is my kind of sky diving! Thanks for giving us the experience via poem, Ethan! I love these lines: "you are a missile dispatched by someone who knows missiles"
Posted 04/12/2013 04:57 AM