She'd dribble the fringe of her shawl
in the river. The quick current rippled the black threads.
They floated as she wished she could.
They wanted to be swept away but she held fast
to what had been woven. Her mother's shawl.
Now her own. How much longer
to be handed down, this black keepsake?

She'd lift out the fringe,
rub it over her face, feel the cold
water run down her cheeks,
down her neck,
into white folds of flesh underneath the dress
worn before her by her kinswomen.

What might she catch in this web
if she let it drift far enough
out of the shallows,
into the dark center
where she could not see the bottom?

How far would she have to wade
until she stepped into
some other world, under the sun-dappled
surface? The river itself was a shawl,
always wrapping itself round the hills,
threaded with golden light,
trailing its castaway leaves.

It could weave her into its weft,
carry her farther than she could imagine—
the sea she could feel surging
inside when she let herself
want what she knew she could not
have, a life she could open
as wide as a closet door onto
garments no woman had worn
before her. Nobody's life but her own.
From Clothes Lines, ed. by Celia Miles and Nancy Dillingham (Catawba Publishing, 2009)
Used with the author's permission.
Purchase a framed print of this poem.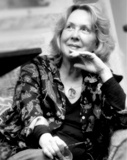 A native of southwest Georgia, Kathryn Stripling Byer has lived n the Western North Carolina mountains since 1968, when she arrived to teach English at Western Carolina University. She served for 5 years as North Carolina's first woman Poet Laureate. Kathryn's newest collection of poetry, Descent, was recently published in the LSU Press Poetry Series. Her first collection, of the The Girl in the Midst of the Harvest (AWP Award Series), was re-issued by Press 53 last year. You can learn more about Kathryn, who loves shawls and admits to owning too many, at www.kathrynstriplingbyer.com.
TheSilverOne:
How incredibly beautiful....love this.
Posted 11/20/2014 05:51 PM
dotief@comcast.net:
Lovely!
Posted 11/19/2014 11:41 AM
plgoodman:
I'm enchanted. A very special poem.
Posted 11/19/2014 10:44 AM
vscholtz:
I plan to keep my browser on all day so that I can re-read these words woven together so beautifully.
Posted 11/19/2014 09:56 AM
Cindy:
I love this!
Posted 11/19/2014 08:54 AM
John:
You have woven the images and ideas together in a tight and beautiful pattern.
Posted 11/19/2014 08:42 AM
mimi:
lovely images and story...
Posted 11/19/2014 07:11 AM
Janet Leahy:
This poem moves like the river, beautiful images. Thank you,
Posted 11/19/2014 06:59 AM
rksanders@charter.net:
You have woven me into your poem this morning. Thank you.
Posted 11/19/2014 06:22 AM
poetronics:
Just beautiful. Thank you.
Posted 11/19/2014 12:41 AM
KevinArnold:
Yes, the river itself was a shawl / it could weave her into its weft /
Posted 11/18/2014 11:37 PM