Slug trail on the porch . . . 

now, I understand my life
This poem first appeared in Kernels (Summer 2013).
Used here with the author's permission.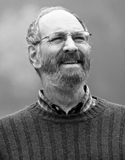 David H. Rosen is a physician & Jungian analyst. He is also the author of ten books, including Clouds and More Clouds, which was nominated for the William Carlos Williams Award and The Haiku Foundation's Touchstone Distinguished Books Award. David was the initial holder of the McMillan Professorship in Analytical Psychology at Texas A&M University. Currently he is Affiliate Professor in Psychiatry at the Oregon Health & Science University. David has three daughters and two grandsons and lives with his wife, Lanara, in Eugene, Oregon, where he occasionally does stand-up comedy in the guise of Singing Senior Comedian Dr. Nada. Learn more about David at http://people.tamu.edu/~David-Rosen/.
Jo:
Wonderful!
Posted 05/26/2014 12:28 PM
erinsnana:
Love it!
Posted 05/26/2014 08:07 AM
Gary Busha:
Yes.
Posted 05/26/2014 06:09 AM
Eiken:
Wow, love it David. I am really into haiku also. Máire in Ireland.
Posted 05/26/2014 05:30 AM
Jean Colonomos:
pitch perfect. Thank you. Jean Colonomos
Posted 05/26/2014 01:13 AM
rhonasheridan:
I tend to throw snails over the wall! I feel I should apologise ! Oh my!
Posted 05/26/2014 12:54 AM
anne.lehman2929@att.net:
WOW, what a comment about one's existence--love it.
Posted 05/25/2014 11:20 PM
jonidee61:
Hilarious, this really speaks to me!
Posted 05/25/2014 11:16 PM