(a friend of the muse)


You revel in  Dawn's splendor,
As Earth turns,
Having assured herself once more
That the stars are still there.
Day creatures stir, strut, begin 
The chatter, roar and song
That draws attention to their being.
Others, done pursuing their nocturnal ways,
Slip silently into retreats,
In fear of their own shadows.

© by Edward Hujsak.
Used with the author's permission.
Purchase a framed print of this poem.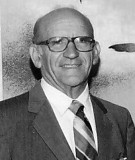 Edward Hujsak is a rocket engineer turned writer, artist, sculptor, and builder of fine furniture and musical instruments. A chemical engineering graduate of the University of New Hampshire, Edward worked on propulsion systems at General Dynamics during development of the Atlas and Centaur rockets. He was propulsion engineer on John Glenn's famous orbital flight and served as chief of preliminary design at General Dynamics Astronautics Division for ten years, accumulating more than a dozen patents in the aerospace field. Edward is the author of numerous published books and has written commentaries for a variety of journals and magazines, including Spaceflight, Space News, Machine Design, San Diego Reader and MAKE magazine. He lives in La Jolla, California.
New comments are closed for now.
transitions:
Loved it, esp the closing lines, nice 'wrap up'.
Posted 07/08/2015 11:32 AM
rhonasheridan:
A lovely wee poem - much enjoyed
Posted 07/08/2015 03:28 AM
Lori Levy:
I like the line about the day creatures beginning "the chatter, roar and song/That draws attention to their being."
Posted 07/07/2015 10:56 AM
anne.lehman2929@att.net:
...a wonderful poem full of great imagery...my favorite: "Others, done pursuing their nocturnal ways, Slip silently into retreats, In fear of their own shadows." Thanks...
Posted 07/07/2015 10:50 AM
r1manchester:
Ed....nice poem!
Posted 07/07/2015 04:43 AM