It came and went in the night.
It left fence posts capped
like ice cream cones
and pines laden so heavy
their limbs touched the ground.
A rising sun lent Dawn
a dazzling brilliance.
White smoke rose
from a red chimney
up, up to cerulean sky.

Tinned pails in hand.
I trudged through snow
toward the barn door
for the morning milking.
An elongated shadow
of an invisible white cat
accompanied me.
Searching,
her black eyes betrayed her.
© by Edward Hujsak.
Used with the author's permission.
Purchase a framed print of this poem.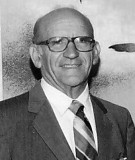 Edward Hujsak is a rocket engineer turned writer, artist, sculptor, and builder of fine furniture and musical instruments. A chemical engineering graduate of the University of New Hampshire, Edward worked on propulsion systems at General Dynamics during development of the Atlas and Centaur rockets. He was propulsion engineer on John Glenn's famous orbital flight and served as chief of preliminary design at General Dynamics Astronautics Division for ten years, accumulating more than a dozen patents in the aerospace field. Edward is the author of numerous published books and has written commentaries for a variety of journals and magazines, including Spaceflight, Space News, Machine Design, San Diego Reader and MAKE magazine. He lives in La Jolla, California.
New comments are closed for now.
rhonasheridan:
Delightful. A wonderful poem - full of atmosphere.
Posted 12/05/2015 01:40 AM
jeeger:
Nice 'visual' at the end! The 'eyes' have it.
Posted 12/04/2015 07:27 PM
Lori Levy:
Beautiful images. Like the white cat with the black eyes juxtaposed against the snow.
Posted 12/04/2015 01:27 PM
barbsteff:
Fine attention to detail, artfully conveyed!
Posted 12/04/2015 11:40 AM
tomleech:
Takes me back to the old farm days, when that first snowfall was a delight to see (not so much a couple days later though). Tom L
Posted 12/04/2015 10:51 AM
Larry Schug:
I also like this poem a lot. It has that magic ingredient I call texture. One of the best I've seen on YDP. I know nobody asked for a critique and I apologize if I'm out of line, but I think it might be even better written in present tense. I also realize this is not a "workshop" but...
Posted 12/04/2015 10:50 AM
ElizabethP:
Love, love this!
Posted 12/04/2015 10:25 AM
paradea:
Yes. I can see it!!
Posted 12/04/2015 08:30 AM
Janet Leahy:
The first line captures our attention. Very nice.
Posted 12/04/2015 08:17 AM
r1manchester:
Nice poem Ed...obviously some of NH still lives within you...especially your first stanza. Describes it so well!
Posted 12/04/2015 06:19 AM
phebe.davidson@gmail.com:
Beautiful, and ineluctable. Wonderful, wonderful work!
Posted 12/04/2015 05:16 AM