The grey lid has been
lifted off the day.

Sun spills everywhere —
on snow, on house, on

me at the window.
No wind in the willow,

no birds in bare branches,
no sadness in the absence.

Only the shine, instead,
the spin and dalliance

of every amazing
particular thing

in the long, the lovely
the almost perfect light.
Used with the author's permission.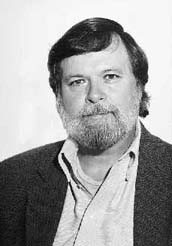 Tom Montag's newest book is

In This Place: Selected Poems 1982-2013. Raised on an Iowa farm, Tom
is the author of numerous books, including
Curlew: Home
, a memoir about growing up;
Kissing Poetry's Sister
, a collection of essays that examines the writing life and being a writer;
The Idea of the Local,
essays about people and place;
Middle Ground
, a collection of early poetry, and
The Big Book of Ben Zen
, a compilation of work from his Ben Zen poetry series. He also, with Peter Pizzino, co-wrote
Peter's Story
, about growing up in Milwaukee's Italian Third Ward during the 1920s-1930s. Tom posts a short poem every workday on his blog, The Middlewesterner

(

www.middlewesterner.blogspot.com

) and is at work on a long-term project about the Middlewest entitled
Vagabond in the Middle
(

www.wlhn.org/vagabond

). He also writes lyrics for, and plays bass with, the folk/new roots group, Doc Abbick in Trinity (give a listen at

http://www.myspace.com/docabbickintrinity

and
https://www.youtube.com/watch?v=mpLYkd0v8Aw&list=UU8Gtu7aBdrk0-GKdxAMqn_g
). Though he retired at age 55 from a career in the printing industry so that he could write full-time, Tom admits that he still doesn't know what he wants to do when he grows up.
jtmilford:
Beautifully expressed with sparse words, every word counts. Thanks
Posted 12/23/2014 07:39 PM
Mike Finley:
Beautyful
Posted 12/23/2014 08:38 AM
rhonasheridan:
Oh yes - it is so rewarding to have someone express a beautiful feeling you have had yourself.And a treat when it is expressed so well. Lovely!
Posted 12/14/2014 01:10 AM
mimi:
exquisitely lovely, Tom. thank you. Sharon Auberle
Posted 12/12/2014 09:13 AM
mmatteis:
Beautiful. Makes me embrace winter. Margherite Matteis
Posted 12/12/2014 08:51 AM
Gary Busha:
So well written in so few words.
Posted 12/12/2014 06:22 AM
Ross Kightly:
For 'our' read 'out' of course... Grrrrrr....
Posted 12/12/2014 12:43 AM
Ross Kightly:
Oh Yeah! (Refers to the impact of the poem, like one of those rays of winter sun & my reaction to the comment about not knowing what to do when one grows up!) My ex-Maths teacher would not be surprised if I give this poem 2,321 our of 10!
Posted 12/12/2014 12:43 AM
KevinArnold:
All those couplets, what fun. I particularly liked: no sadness in the absence. Only the shine, instead, the spin and dalliance of every amazing particular thing
Posted 12/11/2014 11:30 PM
Contents of this web site and all original text and images therein are copyright © by Your Daily Poem. All rights reserved.
The material on this site may not be copied, reproduced, downloaded, distributed, transmitted, stored, altered, adapted,
or otherwise used in any way without the express written permission of the owner.