Conway, Washington
It's a store that exists.
And maybe, in the naming
department, that was all
they were going for.
But do they know
they might've done better?
Skirted a grave implication?
For who wants to step into
a dress the color of summer,
weft soft as dandelion heads,
scalloped hem fanciful
as storybook clouds,
and wind up feeling actual?


© by Kristen Elde.
Used with the author's permission.
Purchase a framed print of this poem.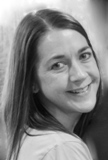 Kristen Elde lives in western Massachusetts with her family. These days, her toddler son is inspiring a shift in focus to children's book writing, but poetry will always be a mainstay. Her poems have been published in Carve Magazine, via Architrave Press, and online at The Nervous Breakdown. Other writing has been on the pages of BUST, The Writer, Runner's World, Shape, and Health. Kristen maintains a (largely poetry) blog at http://difficult-loves.blogspot.com.
New comments are closed for now.
transitions:
'The color of summer' such a beautiful thought, loved the poem young lady :)
Posted 03/01/2016 11:40 AM
barbsteff:
"weft soft as dandelions" … Brava!
Posted 02/23/2016 12:19 PM
rhonasheridan:
Quite right! A lovely poem.
Posted 02/23/2016 11:22 AM
Lori Levy:
Love the way the dress is described.
Posted 02/23/2016 10:08 AM
Dorcas:
Ha ha. So true. The descriptions make you look like you are a flying fish.
Posted 02/23/2016 10:01 AM
mjorlock:
I like the playful use of language and the economy of this poem. Clever and well-crafted.
Posted 02/23/2016 08:24 AM
paradea:
Fresh...and fabulous!!
Posted 02/23/2016 07:08 AM
blueskies:
A new level of poetic delight! Lov'd IT. Will you my new BFF ~ Kristen? Good work. Hoping more to follow on YDP.
Posted 02/23/2016 06:17 AM
Ross Kightly:
I know it's no good rifling my wardrobe for trousers the colour of summer, but still I shall resist the urge to indulge in a bit of cross-dressing - though the envy may not abate for a while... tsk!
Posted 02/23/2016 05:02 AM