I had a lot of things in mind
when I was one-and-twenty.
To fly a plane – as a pilot –
was one of the schemes a-plenty.

But by the age of thirty-odd,
babes hanging on each arm,
it seemed a fine experience
to own and run a farm.

On reaching forty, itchy feet
found grist in life-style changes.
New and un-approached as yet –
came an action that assuages.

The advertisement looked lovely –
movements easy and controlled.
It promised us we'd love it,
and inspired us to be bold.

Now I am a funambulist,
And good at it, what's more!
My children think I'm crazy
when they watch me from the floor.

I haven't fallen off as yet,
I love the cheering crowd;
My husband is long-suffering –
But says he's really proud.

I recommend funambulist.
It's really quite unique.
Not many people do it –
high definition, so to speak.


© by Rhona Aitken.
Used with the author's permission.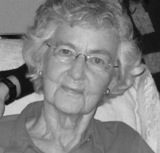 Rhona Aitken has lived all over the world during the course of her life. The author of The Memsahib's Cookbook, which she wrote while living in India and for which she also provided all of the illustrations, Rhona and her husband, Gordon, now deceased, owned and operated a hotel in the U.K. for many years, after which they bought an old-world house and turned it into a thriving restaurant. Now living in a care facility in Exmouth, Rhona has three children and seven grandchildren, all of whom inherited her love for travel. At 90, Rhona continues to write and paint, shares Your Daily Poem every morning with her neighbors, and continues to travel—on her 3-wheeler. Says Rhona, "Life is hilarious, and I have some wonderful stories to tell."
Lily:
Love it and very true of life! Well done Mum! Lianne
Posted 03/03/2016 05:56 AM
rhonasheridan:
I suppose this is the time to admit that I can barely put one foot in front of the other! But one can have a tremendous time trying! Thank you all for commenting - much appreciated
Posted 02/27/2016 12:06 PM
Ross Kightly:
Life is indeed hilarious if you can truly walk the tightrope! What a wonderful and cheering poem from a true Amazon Warrior in the War against Time! Thank you for this.
Posted 02/27/2016 11:48 AM
transitions:
Still writing at 90, and well too! Love your indomitable spirit.
Posted 02/26/2016 07:15 PM
erinsnana:
I love your spirit!
Posted 02/26/2016 09:27 AM
cork:
Rhona, you are amazing and certainly a high flyer.
Posted 02/26/2016 08:46 AM
paradea:
Hahahaha!! Love this! Hope I'm still writing at 90.
Posted 02/26/2016 08:11 AM
Jancan:
I really love this poem. It's well- written, inspiring, and entertaining. Janice
Posted 02/26/2016 06:55 AM