Do more than belong: participate. 
Do more than care: help. 
Do more than believe: practice. 
Do more than be fair: be kind. 
Do more than forgive: forget. 
Do more than dream: work. 
Do more than teach; inspire. 
Do more than earn; enrich. 
Do more than give; serve. 
Do more than live; grow. 
Do more than suffer; triumph. 

This poem is in the public domain.
Purchase a framed print of this poem.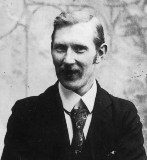 William Arthur Ward (1921 - 1994) is considered one of America's foremost inspirational writers, with columns, quotes, and poems appearing multiple times in major publications during his lifetime and still widely referenced today. Born in Louisiana, he served in the U.S. Army before becoming a college administrator. William was also an editor, teacher, and pastor, and served on the board of directors for many nonprofit organizations.
New comments are closed for now.
paradea:
Wonderful poem!!
Posted 03/18/2016 03:54 PM
Jancan:
Great choice for the day--inspiring! Janice
Posted 03/18/2016 09:49 AM
Dorcas:
A litany for being human and firstly a child of God's creation in His image.
Posted 03/18/2016 09:28 AM
blueskies:
A shining mantra...disguised as a poem! Great way to begin the day and live a life. Thanks, Jayne.
Posted 03/18/2016 06:51 AM
Newf:
Wonderful! Certainly something to aim for.
Posted 03/18/2016 05:14 AM