There is laughter in the hall!
the elevator door closes noisily
having delivered a tide of colour.
Ear-rings jangle, packages dangle,
flowers, books assemble
on well-filled arms.
The daughters have arrived!

On sunny days
after family lunch,
they visit Mother —
or perhaps Father —
but not so often.
He is now a picture frame,
soon to be bordered
by the exotic orchid,
the Murry-mints and grapes.

The outside world has whirled in —
A tidal-wave of daughters
telling tales of living, loving,
lunches;
little episodes of mirth,
surprise or sadness,
to keep Mother up-to-date
with the world she knew.

When evening closes in,
supper brings together
all the stories of the day;
there is much to talk about.
Later, peacefully in bed,
memories merge with dreams.
Daughter's orchids — caught
monotone in moonlight,
bring the day quietly
to its close.
© by Rhona Aitken.
Used with the author's permission.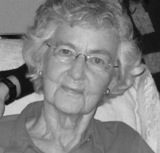 Rhona Aitken has lived all over the world during the course of her life. The author of The Memsahib's Cookbook, which she wrote while living in India and for which she also provided all of the illustrations, Rhona and her husband, Gordon, now deceased, owned and operated a hotel in the U.K. for many years, after which they bought an old-world house and turned it into a thriving restaurant. Now living in a care facility in Exmouth, Rhona has three children and seven grandchildren, all of whom inherited her love for travel. At 90, Rhona continues to write and paint, shares Your Daily Poem every morning with her neighbors, and continues to travel—on her 3-wheeler. Says Rhona, "Life is hilarious, and I have some wonderful stories to tell."
Dorcas:
Stories in one's heart. Absolutely lovely...not a once upon a time.
Posted 05/08/2016 09:38 PM
blueskies:
A special poem---for a special day. THANK YOU..
Posted 05/08/2016 04:37 PM
carel:
I'd love to come for a visit, Rhona. Happy Mother's Day.
Posted 05/08/2016 03:02 PM
Lori Levy:
Great to read about such a cheerful visit! It wasn't like that visiting my mother-in-law. Love all the sensory details in this poem.
Posted 05/08/2016 01:29 PM
Jo:
Happy Mother's Day Rhona. I wish I knew you.
Posted 05/08/2016 12:49 PM
Ross Kightly:
After the colour and noise of a loving day, monochrome of moonlight and slow silence - perfect.
Posted 05/08/2016 09:30 AM
Newf:
I think of even the best care facilities as sad places. Rhona has written such a beautiful poem. I would love to meet her. Love the poem and the last line of her bio. Yaaay, Rhona!
Posted 05/08/2016 05:12 AM