I lost sight of life –
for just a little while
the ambiance of where I was
disappeared.

Whose walls?
Whose doors?

No – it is not something forgotten.
It's something I don't know.
The people in my sight
smile – look kind,
but who are they?

Not people I've forgotten –
they are people
quite suddenly
I don't know.
What have I lost sight of?
Where did the world
I felt I knew
go?
© by Rhona Aitken.
Used with the author's permission.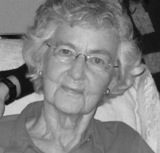 Rhona Aitken has lived all over the world during the course of her life. The author of The Memsahib's Cookbook, which she wrote while living in India and for which she also provided all of the illustrations, Rhona and her husband, Gordon, now deceased, owned and operated a hotel in the U.K. for many years, after which they bought an old-world house and turned it into a thriving restaurant. Now living in a care facility in Exmouth, Rhona has three children and seven grandchildren, all of whom inherited her love for travel. At 90, Rhona continues to write and paint, shares Your Daily Poem every morning with her neighbors, and continues to travel—on her 3-wheeler. Says Rhona, ?Life is hilarious, and I have some wonderful stories to tell."
rhonasheridan:
Thank you all for your comments. It is such a sad condition to have. My friends here are lovely people and many of them seem impossible to reach - no matter how much you want to. It is surprising how animals tune in to the sufferer.
Posted 06/05/2016 02:00 AM
jtmilford:
Thank you for vividly bringing this world out for me to understand.
Posted 06/02/2016 06:53 PM
Jo:
God bless you for writing and sharing this with all of us.
Posted 06/01/2016 02:20 PM
Dorcas:
It is all still with you. God Bless.
Posted 06/01/2016 10:58 AM
Lori Levy:
Thank you for this insight into dementia.
Posted 06/01/2016 10:42 AM
ElizabethP:
Excellent poem describing a real heart ache disease. Thank you so much.
Posted 06/01/2016 10:03 AM
njc:
"Not something forgotten--it's something I don't know." Remembering the day my father looked me in the eye and said, I know what my name is, but I don't know who I am. --Listen, and be fully present...don't run away.
Posted 06/01/2016 08:36 AM
blueskies:
You give us a stunning & tender & accurate 'voice' into the heart of dementia. Bless you & thank you, Rhona.
Posted 06/01/2016 08:11 AM
paradea:
God bless Rhona. God bless us all.
Posted 06/01/2016 08:08 AM
KevinArnold:
For anyone who is living near Alzheimer's this is a tough-but-wonderful poem. Great insight. Great Lines: No – it is not something forgotten. It's something I don't know.
Posted 06/01/2016 07:44 AM
Newf:
Alzheimer's in my family. Rhona has a wonderful take on it. I've always thought of it as forgetting, but of course they just don't know. Mother didn't know me.
Posted 06/01/2016 07:27 AM
jeeger:
Thank you Rhona for this insightful poem.
Posted 06/01/2016 06:50 AM
Jean :D:
My older sister has Alzheimer's & Rhona's poem tells it very well. It's a heart breaking thing to live with, on all sides. Especially since she's to far from me to visit. I pray for a cure.
Posted 06/01/2016 06:37 AM