My early morning breathing — fraught.
This ultra summer weather — nought.
Sticky scanty clothing — taut.
Lots of cold, cold water — bought.
Cool, cool breezes — just a thought . . .
© by Rhona Aitken.
Used with the author's permission.
Purchase a framed print of this poem.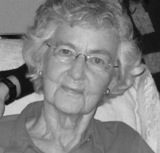 Rhona Aitken has lived all over the world during the course of her life. The author of The Memsahib's Cookbook, which she wrote while living in India and for which she also provided all of the illustrations, Rhona and her husband, Gordon, now deceased, owned and operated a hotel in the U.K. for many years, after which they bought an old-world house and turned it into a thriving restaurant. Now living in a care facility in Exmouth, Rhona has three children and seven grandchildren, all of whom inherited her love for travel. At 90, Rhona continues to write and paint, shares Your Daily Poem every morning with her neighbors, and continues to travel—on her 3-wheeler. Says Rhona, "Life is hilarious, and I have some wonderful stories to tell."
erinsnana:
I love this!
Posted 08/02/2016 02:11 PM
Michael:
Delightful, Rhona Love the simplicity of this poem.
Posted 08/02/2016 09:44 AM
blueskies:
Agreed upon > Perfect! 'Feels' like temps yesterday were 109. Poem expresses it aptly. Thanks again, Rhona.
Posted 08/02/2016 05:32 AM
Jean :D:
As my husband used to say, "Concise, precise and exact". Sums up all these awful HOT summer days in a delightful way! Perfect!
Posted 08/02/2016 03:40 AM