Snow came swiftly this year
Thick folds over         unraked leaves
White piles upon garden chairs

I thought I had more time

Today, again        more snow
I'm shoveling the walk        tulip bulbs
wait patiently in bags in the garage
The garden hose stands        frozen  in  curves

I left it there one recent rainy day

Maybe the snow will soon melt
I'll rake the snow-sodden leaves
onto the vegetable beds,
Trowel through frost-crusted earth,
Place bulbs into holes
? a little blood meal to discourage the squirrels ?
Carry the hose to the basement  
Stack garden chairs under the eaves 
Pile flower pots        upside down

I thought I had more time
This poem is featured in the Women Artist's Datebook, 2017 (Syracuse Cultural Workers).
Used here with the author's permission.
Purchase a framed print of this poem.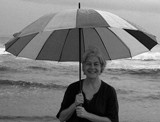 Susan Wismer is a poet, gardener (her life, she says, is ?punctuated by my relationships with the plants and trees in my yard"), grandmother, and dancer. Widely published in journals and anthologies, Susan lives ?gratefully nested" at the shores of Georgian Bay in Collingwood, Ontario, Canada.
New comments are closed for now.
rhonasheridan:
A lovely poem - and how I love the words "gratefully nested"!
Posted 11/21/2016 01:43 AM
Lori Levy:
Great image of the garden hose "frozen in curves."
Posted 11/20/2016 09:54 PM
Michael:
Susan, You've painted a picture of my typical experience! I must do better this year. Thank you.
Posted 11/20/2016 07:03 PM
transitions:
Don't we all...Well done.
Posted 11/20/2016 11:03 AM
Jo:
Enjoyed reading this poem
Posted 11/20/2016 09:30 AM
KevinArnold:
This is one of those 'poems of the last line,' which I love.
Posted 11/20/2016 09:20 AM
cork:
The "snow spaces" are lovely.
Posted 11/20/2016 09:04 AM
Katrina:
I like this.
Posted 11/20/2016 05:47 AM