Ordinary kitchen scents –
Not new – but timeless
Insistent presence.
Ornaments of beauty,
Nature providing shining
Sustenance in crisp brown overcoats
Hanging from the rafters,
Ageing in their multi-ochres –

Nineteen massive onions
Gleam with splendour
In their plaited beauty,
Never other than aromatic – especially
Gathered, sliced and juicy in a finished dish.
© by Rhona Aitken.
Used with the author's permission.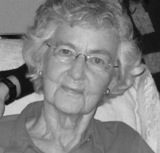 Rhona Aitken has lived all over the world during the course of her life. The author of The Memsahib's Cookbook, which she wrote while living in India and for which she also provided all of the illustrations, Rhona and her husband, Gordon, now deceased, owned and operated a hotel in the U.K. for many years, after which they bought an old-world house and turned it into a thriving restaurant. Now living in a care facility in Exmouth, Rhona has three children and seven grandchildren, all of whom inherited her love for travel. At 90, Rhona continues to write and paint, shares Your Daily Poem every morning with her neighbors, and continues to travel—on her 3-wheeler. Says Rhona, "Life is hilarious, and I have some wonderful stories to tell."
blueskies:
Great poem! Thanks,Rhona
Posted 12/05/2016 04:17 PM
hannegault@gmail.com:
go rhona
Posted 12/05/2016 12:00 PM
Michael:
Dear Rhona, I always enjoy your poems and this one in particular reminds me of a root-cellar beside the home of my youth. It was chili, a little dank, and full of the smells you describe. Thank you, Michael Escoubas
Posted 12/05/2016 09:44 AM
Lori Levy:
Great portrayal of onions!
Posted 12/05/2016 09:32 AM
David:
You've made something beautiful out of something ordinary...and presented it to us in a finished dish. Thanks!
Posted 12/05/2016 08:48 AM