my existence. Pipe wrenches,
For the god of domesticated
water mocks me or at best
petitions and prayers: valves forever
frozen open or shut, whichever
is least desirable, threads eternally
crossed or stripped, faucet leaks
reverberating like 3 a.m. thunder.
plumber; one whose sympathetic
touch can sooth the savage
after reviewing the results
of my humiliating attempts
This poem first appeared in Edison Literary Review.
Used here with the author's permission.
Purchase a framed print of this poem.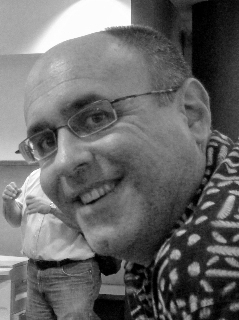 Tony Gruenewald was born in Manhattan, but grew up in the shadow of the water tower of the Edison Ford Assembly Plant in New Jersey. He has worked as a fast food fish fryer, on a loading dock, in broadcast journalism, and as an advertising copywriter. He saw his advertising work on the giant scoreboard at Yankee Stadium and heard it trashed on the radio by Don Imus. He currently works for Recording the Blind & Dyslexic as Assistant Production Director where he helps coordinate volunteers and acts as a computer whisperer. His poems have appeared in The New York Times, Adbusters, Exit 13, Slow Trains, U.S. 1 Worksheets and Edison Literary Review, where he serves as production manager. His collection, The Secret History of New Jersey, was recently published by Northwind. For more about him, visit www.tonygruenewald.com.
There are no comments for this poem yet.