Just before the sun dips its toes in the bay
we make the pilgrimage to Daniel's-by-the-Sea
where tall blue bottles of tequila spill their contents
into shot glasses. Don't bother asking for mix,
or anything else, unless you bring it, which we don't.

Instead, we carry stories wrapped in guises
of fact, fiction, or something in-between
while pelicans dive and fly,
skimming so close to breaking surf
you'd swear they'll fall in, but no;
only when they choose to. 

Dogs rush other dogs rush other dogs,
large, small, doesn't matter—they just want to play.
A fisherman casts his net.
Eventually the sun sets. Glasses empty.
The world goes away. 
© by Linda Crosfield.
Used with the author's permission.
Purchase a framed print of this poem.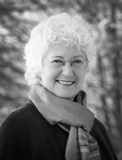 Linda Crosfield lived in Ottawa, Windsor, Montreal, Toronto and Vancouver before returning to the Kootenays where she was born. She is not fond of winter, preferring to spend as much of it as possible in a little fishing village in Mexico. The rest of the time she lives quite happily in Ootischenia in southeast British Columbia with her husband Ted, a woodturner. As overseer of her micro-press, Nose in Book Publishing, she produces chapbooks and handmade journals. Linda's poems appear in several literary magazines, chapbooks, and anthologies and she blogs sporadically at www.purplemountainpoems.blogspot.com.
wendy morton:
Stories. Pelicans!!
Posted 02/16/2017 06:33 PM
transitions:
Wish I could join you ~ loved the poem.
Posted 02/16/2017 01:53 PM
Lori Levy:
Love the images and the line, "stories wrapped in guises/of fact, fiction, or something in-between."
Posted 02/16/2017 12:58 PM
KevinArnold:
Fun.
Posted 02/16/2017 08:59 AM
paradea:
"The world goes away"! Been there. Done that!
Posted 02/16/2017 08:38 AM
Larry Schug:
I hope the narrator called a cab! I like the picture proffered by the last verse, especially though the entire poem is quite visual. Nice.
Posted 02/16/2017 07:10 AM
blueskies:
Booking a reservation. For your world-goes-away-setting. Deeply insightful. Thanks, Linda
Posted 02/16/2017 06:28 AM