Deep in a warm bowl flours mix -
Snow-white, dappled grain
Bubbling yeast rising to its task
Ploughing fingers twisting, turning;
Silken dough thumbed
upon the wooden board
Into a fragrant loaf -
To be eaten with butter,
Dribbled with honey.
The crunchy crust
Enclosing soft delight.
Food for the gods,
For you, for me,
And best of all -
I made it.

© by Rhona Aitken.
Used with the author's permission.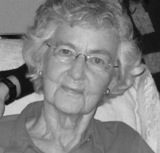 Rhona Aitken has lived all over the world during the course of her life. The author of The Memsahib's Cookbook, which she wrote while living in India and for which she also provided all of the illustrations, Rhona and her husband, Gordon, now deceased, owned and operated a hotel in the U.K. for many years, after which they bought an old-world house and turned it into a thriving restaurant. Now living in a care facility in Exmouth, Rhona has three children and seven grandchildren, all of whom inherited her love for travel. At 90, Rhona continues to write and paint, shares Your Daily Poem every morning with her neighbors, and continues to travel—on her 3-wheeler. Says Rhona, "Life is hilarious, and I have some wonderful stories to tell."
Jo:
Love your spirit and your poem, Rhona. Such a joy to bake bread and you've captured it well.
Posted 06/09/2018 10:14 PM
mjs.ontheroad@gmail.com:
I love baking bread, and I love Rhona Aitken! This poem is so deliciously evocative; I may have to make some bread this weekend as well.
Posted 06/09/2018 01:56 PM
DavidTookey:
A chronic bread baker myself, it is a pleasure to read about how others enjoy it too! Wonderful poem.
Posted 06/09/2018 11:31 AM
Lori Levy:
I can almost smell the bread and taste it!
Posted 06/09/2018 11:14 AM
Jancan:
SO well-written! Favorite line: "Ploughing fingers . . . ." Jancan
Posted 06/09/2018 10:18 AM
cork:
Rhona, I will definitely bake bread today!
Posted 06/09/2018 09:33 AM
pwax:
"Silken dough thumbed upon the wooden board" -- I loved that phrase!
Posted 06/09/2018 09:15 AM
mary ricketson:
Lovely poem, and such a lovely and brave life. Thank you Rhona for sharing this poem.
Posted 06/09/2018 08:54 AM
Larry Schug:
"Food for the god, for you,for me" We're all gods in our own way and have great powers such as making bread and writing good poems. Nice!
Posted 06/09/2018 08:25 AM
michael escoubas:
How about sending a loaf my way, Rhona! Wonderful poem!!!
Posted 06/09/2018 08:20 AM
Sharon Waller Knutson:
What a delightful poem from a remarkable poet and role model. Thanks, Rhona for reminding us that age is just a number and that no matter how old we are the most important thing is savoring simple experiences like making homemade bread, reading and writing poetry, sharing with friends and laughing.
Posted 06/09/2018 07:30 AM