Half my wintertime life, or so it seems,
I spend standing beside our old Round
Oak stove—which stands at the center
of our house—hands behind my back,
resting on my butt, palms out, warmth
of the fire in the woodstove working its
way into my body. Then turn around and
bake the other side. Too hot? Just move
a step or two away. It's so simple, easy.
And all you've got to do is work all year,
sweat and heave and groan
to make this little moment happen.
Oh, now I sing praises to a wood fire,
to the heat this smoky burning liberates,
the heat that keeps us warm all winter.
Oh, praise this primordial fire, praise heat
in its most basic form:
the blessed warmth that comes from
our old, wood burning, Round Oak stove.

From Happy Life, forthcoming from Copper Canyon Press in 2011
Used here with the author's permission.
Purchase a framed print of this poem.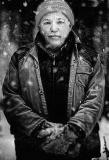 David Budbill is the author of seven books of poems, eight plays, a novel, a collection of short stories, a picture book for children, dozens of essays, introductions, speeches and book reviews, the libretto for an opera, and has recorded two CDs of performance poetry. He was, for a time, a commentator on National Public Radio's All Things Considered and his work is frequently featured on NPR. David's latest book, Tumbling Toward the End, is forthcoming from Copper Canyon Press in 2016. A longtime resident of Vermont, David and his wife are in the process of moving from the country to the city. Learn more about him at www.davidbudbill.com.
Larry Schug:
We've been heating our house with a wood stove for four decades, thus I say to David's poem, "Right on!" Truth spoken beautifully.
Posted 02/20/2015 07:31 AM
Contents of this web site and all original text and images therein are copyright © by Your Daily Poem. All rights reserved.
The material on this site may not be copied, reproduced, downloaded, distributed, transmitted, stored, altered, adapted,
or otherwise used in any way without the express written permission of the owner.