Out walking in the swamp picking cowslip, marsh marigold,
this sweet first green of spring. Now sautéed in a pan melting
to a deeper green than ever they were alive, this green, this life,
harbinger of things to come. Now we sit at the table munching
on this message from the dawn which says we and the world
are alive again today, and this is the world's birthday. And
even though we know we are growing old, we are dying, we
will never be young again, we also know we're still right here
now, today, and, my oh my! don't these greens taste good.



From Moment to Moment: Poems of a Mountain Recluse (Copper Canyon Press)
Permission to use granted by Copper Canyon Press (www.coppercanyonpress.org).
Purchase a framed print of this poem.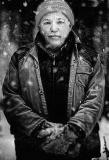 David Budbill is the author of seven books of poems, eight plays, a novel, a collection of short stories, a picture book for children, dozens of essays, introductions, speeches and book reviews, the libretto for an opera, and has recorded two CDs of performance poetry. He was, for a time, a commentator on National Public Radio's All Things Considered and his work is frequently featured on NPR. David's latest book, Tumbling Toward the End, is forthcoming from Copper Canyon Press in 2016. A longtime resident of Vermont, David and his wife are in the process of moving from the country to the city. Learn more about him at www.davidbudbill.com.
Dorcas:
I may be retired and done me duty but, I ain't finished with my green part yet.
Posted 03/23/2015 08:01 PM
pwax:
Wonderful poem. We know what's coming, but still enjoy the greens.
Posted 03/23/2015 12:12 PM
transitions:
Thank you for the reminder....too true...
Posted 03/23/2015 12:11 PM
Jo:
Beautiful poem.
Posted 03/23/2015 10:29 AM
TheSilverOne:
Beautiful poem....those treasured moments when, in spite of everything, we have hope.
Posted 03/23/2015 10:15 AM
r1manchester:
those of us who live in Northern New England especially cherish spring, the cowslips, the fiddleheads, "this green", because we know that in a very short time it is winter again. but at least we have Mr. Budbill to hear from once in a while. thanks Jayne for featuring "one of our own".
Posted 03/23/2015 02:05 AM
Marilyn L Taylor:
Splendid poem. Thank you for writing it.
Posted 03/23/2015 12:24 AM
poetkat7:
I love how hopeful the poem is. ... re, the phrase: "Now we sit at the table munching on this message from the dawn which says we and the world are alive again today, and this is the world's birthday" === Yes, it has the obvious reference to rebirth of the world, but how unique: I LOVE the idea of "INJESTING SPRING"!! WOW!~ how wonderful is that! To be able to "eat" an idea ....like peace, or joy, or love... and feel it through out system... wouldn't that be wonderful!~
Posted 04/13/2011 08:26 PM