Tonight as the moon draws its arc
through the stars and fog thickens
on the bay, a hummingbird
sits on her nest in the fuchsia plant

warming her one almond-shaped egg.
My adult children, home for a holiday,
strum guitars in the living room
and I wonder how many other mothers

are here on this little plot of land: possum,
mouse, raccoon? There must be spider
mothers here, too, and mother worms.
But I've seen this hummingbird, how

she sits on her nest as though in a boat
sailing on the breezes of spring and into
the fogs of night. I remember how I kept
my own offspring warm in my womb

as they turned into babies, and then
became the two adults making music
in their childhood home. Soon the egg
will hatch and a tiny being will emerge,

wet and scrawny, and it will grow
so big that one day the nest will be too small
and Mother will move out, flying back
every half hour to feed the hungry little beak.

My children themselves have moved away;
now they're the ones who must fly back
on holidays, guitars and laundry in hand,
returning to the nest to nourish their mother.


Š by Tamara Madison.
Used with the author's permission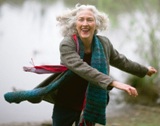 Tamara Madison is the author of the chapbook, The Belly Remembers, and two full-length volumes of poetry, Wild Domestic and Moraine, all published by Pearl Editions. She is a dog lover, a swimmer, and a native Californian who has lived in many different places in the U.S. and abroad. Tamara is thrilled to have recently retired from teaching English and French in a Los Angeles high school, and still more thrilled to have recently become a grandmother.
jerithompson:
Wonderful and warm hearted as all your (esp mother) poems are!
Posted 05/11/2020 05:14 AM
Robert Walton:
Your opening lines invite us into beauty - wonderful images!
Posted 05/10/2020 11:50 AM
Jo:
I enjoyed the inclusiveness of your poem?the thoughtfulness. I liked ?guitars and laundry in hand? too, having experience it so many times.
Posted 05/09/2020 11:40 PM
pwax:
"guitars and laundry in hand" I love it!
Posted 05/09/2020 10:46 PM
Anastasia:
What a lovely and thoughtful poem! I particularly enjoy the references to the other mothers on the land.
Posted 05/09/2020 04:25 PM
Lori Levy:
Love the portrayal of all the different mothers.
Posted 05/09/2020 04:15 PM
BAMars:
Love the details and your usual intelligent observations. So neatly circular at the end, so pretty from the start.
Posted 05/09/2020 12:29 PM
KevinArnold:
We guys can?t truly understand this, although Paris did jones after Hera, representing this side of womanhood. A fine presentation of motherhood, calmly drawn.
Posted 05/09/2020 10:03 AM
cork:
I swam through every word with precision strokes and controlled breathing.
Posted 05/09/2020 10:02 AM
Ron:
Thank you Tamara That is truly beautiful. Ron
Posted 05/09/2020 09:28 AM
mail@schoolbusmart.com:
Very nice. Randy Happy Mother's Day.
Posted 05/09/2020 09:10 AM
MLove:
I'm not crying. You are.
Posted 05/09/2020 08:45 AM
Larry Schug:
Perfect, just perfect!
Posted 05/09/2020 07:07 AM