Sculpture: That's something you bump into when
you back up to look at a painting.
—Barrett Newman
The gallery is small
given that the Kandinsky
I'm looking at is large,
too large for the room
and the track-lighting overhead
glares harshly off the paint
because the ceiling isn't high enough
so I back up to see the painting
more clearly with the proper perspective
and I barely nudge a statue, Greek,
an antiquity that doesn't quite
belong in a room with Kandinsky and me.
So this security guard comes over,
touches my shoulder, says, Don't
lean on the sculpture. I say, I'm not leaning
I'm backing up to look at the painting.
and he says, We have rules; you can't
touch the exhibit and I say
I'm not touching it, I'm not even
looking at it; I'm looking at the painting
and he says, You won't think
your mouth is so smart
when I throw you out of here,
and I say, That's a fine thing
to consider, given that the gallery
is virtually empty and it's not like
this place is going berserk with
all the rich and famous patrons
crowding around. He says, We
can do quite well without patrons
like you. I say, Kandinsky
had me in mind when he created
that painting which is far beyond
the rudimentary understanding of a security guard
who wouldn't know the difference
between a Renaissance painting
and a soup can—if it
weren't labeled as art. And besides
I say, that statue is Greek; it's had
its nose broken, several times,
and its arms were cut off long ago
so it's not like there'd be any
real damage if it were to fall
while I'm looking at the Kandinsky
and not leaning on the Greek as you said
and how would you like your
nose to look like that?
He puts both hands on my shoulders
shoves me past Miro, all his fantasy figures
staring, past DeChirico's ruins,
past a nude, I think, descending, past
one Bible story after another
until I'm outside, in a garden
surrounded by sculpture,
a large nude—Henry Moore I believe—
with full thighs, heavy breasts,
a body no one could break
in a gazillion years. And I think
this isn't so bad as I look at it
from every angle, backing up
until I fall across a garden bench,
Victorian, ornamental iron,
filigree of peacocks and vines,
freshly labeled with an artistic sign
that reads BE CAREFUL FRESH PAINT.

From Far From the Temple of Heaven (Black Moss Press,2005).
Used here with the author's permission.



Purchase a framed print of this poem.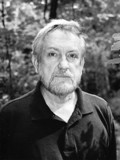 Dale Ritterbusch is the author of Far From the Temple of Heaven and Lessons Learned: Poetry of the Vietnam War and Its Aftermath. Twice selected as the Distinguished Visiting Professor in the Department of English & Fine Arts at the U.S. Air Force Academy, he is a professor of English at at the University of Wisconsin-Whatewater.
Dale also has poems in these books:
New comments are closed for now.
Supa:
I like funny poetry this just didn't do it for me.
Posted 05/24/2015 06:11 AM
Jo:
Both my husband and I laughed out loud at this poem. It is really funny, and also touches on a few things at the museum... Thanks Dale.
Posted 05/21/2015 07:56 PM
transitions:
Loved it. And I like Kandinsky too ~
Posted 05/21/2015 01:42 PM
paradea:
I love this 'poem'. So much better to draw the masses to poetry than some of the 'stick-up-your-butt' poems nobody gets!! Clever and interesting...and funny.
Posted 05/21/2015 11:04 AM
plgoodman:
I love it when poetry actually elicits belly laughs! And this is so well done, to boot!
Posted 05/21/2015 11:02 AM
Tony:
Humor packs a wallop in this clever tale which contrasts those in the know about art and life and those who feel obliged to follow each and every rule, those who recognize the role accidents play in the creation and appreciation of art and those who flee life's and art's randomness. Tony Raiola
Posted 05/21/2015 10:25 AM
loisflmom:
Oh, Supa, lighten up. Poetry doesn't have to be dead serious and destined for millenia. Nice that it can be fun also.
Posted 05/21/2015 09:45 AM
msruff:
Wonderfully delightful.
Posted 05/21/2015 09:24 AM
hujsaked@aol.com:
Funnier than Kaadinsky.
Posted 05/21/2015 09:12 AM
Cindy:
I love this one; so funny
Posted 05/21/2015 08:54 AM
rhonasheridan:
When is a poem not a poem? I really don't know - but I thoroughly enjoyed reading this whatever it is. A rhythmic monologue perhaps?
Posted 05/21/2015 08:50 AM
vscholtz:
I, however, loved it. The idea of backing into art is quite thought-provoking.
Posted 05/21/2015 08:32 AM
Supa:
My least favourite poem so far.. Didn't enjoy.
Posted 05/21/2015 08:25 AM