Something told the wild geese
It was time to go,
Though the fields lay golden
Something whispered, "snow."

Leaves were green and stirring,
Berries, luster-glossed,
But beneath warm feathers
Something cautioned, "frost."

All the sagging orchards
Steamed with amber spice,
But each wild breast stiffened
At remembered ice.

Something told the wild geese
It was time to fly,
Summer sun was on their wings,
Winter in their cry.
This poem is in the public domain.
Purchase a framed print of this poem.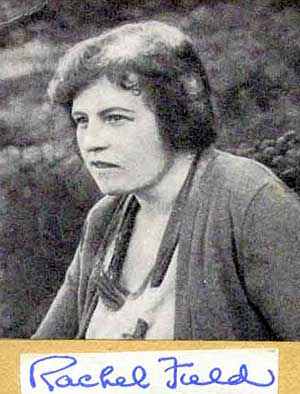 Rachel Field (1894 - 1942) was a novelist, children's book author, playwright, and poet. Born in New York City, she was the first woman to win the Newbery Award for outstanding children's fiction. Rachel's best-known work was probably her novel, All This And Heaven Too, which was made into a film starring Bette Davis.
New comments are closed for now.
Female dog 🐶:
Got it as homework as a comprehension and need awnsers 🙄
Posted 01/27/2017 10:52 AM
mymomisfat :
Ododododododododooxodoxoxoxoxosodoododododododododdoododdo
Posted 10/29/2015 06:53 PM
mymomisfat :
Ododododododododooxodoxoxoxoxosodoododododododododdoododdo
Posted 10/29/2015 06:53 PM
mymomisfat :
My My My My My My My
Posted 10/29/2015 06:52 PM
mymomisfat :
SmvvqwciphgqcwdhjoeqhjvoxqdwviphdcsqvoihI'm a fat fart
Posted 10/29/2015 06:51 PM
mymomisfat :
Dfiyiyfxicfyudfyydfyfduidtydhifdhfucgigfuigiudugdidtuiftufutuffhgicgufugcghugfufgucuhfgfcugcuffudfucyfycgucggucufccyfuufdyfhisfsihdhidfdifgxhfxfhidfdfdkxjfxfhxjfhixjfxfhxjhfxfjhxfhdfihdihfxihfdfhidhdgxfhidhgodfidhfdfdidytdotdiyfidyfidhgdgihdgidfihdtidfhiddiytdtitdyicitytyidtdyi ckhgdtuothiddiytdihdfydytdifddytidyfgihdotdtoddtdytodtydyiftdtdtdotdotdutkdutdutfd🎉🍁😮🎉🎧🍁🎉👌🏿❤️👽😦🎉🎉🎉🎧🎉🎧🍁👽🍁💗🎉🍁😢🎧🎉😢🎧🎉🎉🎧😢🎧🎉✅🎧🎉😍😍😍😍😍😊😎😎😋😗😈😔😅😔😅😡😬😦😲😦😩😝😨😞😣🎪🎨🎪🎭🃏🎫🎱🎳🎶🎼🎩🎮🎼🎮🎤🎮🎼🎤🎮🎭🎼🎨🎲🎤🎲🎩🎲🎫🎷🎲🎸🎶🎹🎶🎱🎸🎷🎨🎮🎤🎮
Posted 10/29/2015 06:50 PM
mymomisfat :
Hitchgcoutftufotuftidtutudutdodutodtditytouddutdoutdtuodotu
Posted 10/29/2015 06:49 PM
mymomisfat :
📷📷📷📷📷📷📷📷😬😬😬😬😬😬😬😬💩💩💩💩💩💩💩💩💩💩💩💩💩💩💩💩💩💩💩🆓🆓🆓🆓🆓🆓🆓🆓🆓🆓🆓🆓🆓🆓🆓🆓🆓🆓🆓
Posted 10/29/2015 06:46 PM
mymomisfat :
📷📷📷📷📷📷📷📷😬😬😬😬😬😬😬😬💩💩💩💩💩💩💩💩💩💩💩💩💩💩💩💩💩💩💩🆓🆓🆓🆓🆓🆓🆓🆓🆓🆓🆓🆓🆓🆓🆓🆓🆓🆓🆓
Posted 10/29/2015 06:46 PM
mymomisfat :
👌🏿❤️❤️👌🏻👌🏻👌🏻👌🏻❤️❤️👌🏻😩😩❤️👌🏻❤️
Posted 10/29/2015 06:46 PM
mymomisfat :
I had to recite a poem for my speech class and found this online. pretty cool thought i'd share it with you guys Twas the night before Christmas and caught at the light, Was a domestic V8 and no cops in sight, I will try, I will try with this small motor, To beat this damn Camaro, even with its big blower, As the light goes green and I pull like no joke, The Camaro erupts in clouds of tire smoke, Now Smasher, now Rev-ver, now Stroker, now Blitzin, These are the names of my four VTEC pistons, Racing ahead I'm the star of the action, But I know I'm in trouble when camaro gets traction, Grabbing second, I hear the RPM's sing, My mirror is blocked by my shopping kart wing, I now hear the roar of the big monster gaining, All I can do is keeping the four-banger straining, In a second, the shock wave hits with a blast, And my stickers go flying, now a thing of the past, Don't bother with third, cause now it's too late, Just try to act cool, like you can relate, Looking up at the taillights as they get smaller, The driver back off just to give me a holler, "You can't win them all," he says in fling, "You may not win any, in that silly thing," I smiled and revved as he pulled out of sight, With my new mods tomorrow will be a better night.
Posted 10/29/2015 06:45 PM
Maeve60:
One of my favorite poems. The geese were here on the Lake all summer and we took such joy in watching them. Now, early Sept. they all seem to have left. Surely, "something told the wild geese"
Posted 09/03/2015 09:18 AM
MissWatusi:
I love this poem. When I taught 5th grade, I would have my students memorize it every year.
Posted 09/02/2014 07:36 AM
Buckner14:
I emember reading Rachel Fields' ork when I was a child, and l loving it. Now I read this and know why--she should be re-discovered...widely.
Posted 10/17/2010 07:36 PM
Julianne Carlile:
This is my kind of poem.
Posted 10/15/2010 03:20 PM
dotief@comcast.net:
The lake near my house has been home to some Canadian geese. They flew off in a hurry this morning--the weather being a bit brisk for Florida (maybe 65), but still, I wonder where they will go from here. Love the poem.
Posted 10/15/2010 09:58 AM