Above, branches weave like fingers –
hands folded in prayer. My skin has cooled
in this shade. For a moment, I imagine
myself beautiful. This would be the best
time to sleep, become an afternoon's idol
but two squirrels begin their games,
leaping limb to limb – autumn wood
scrapes like bone. Day ages, shadows stretch
their roots, and the sun dips her eye beneath
the tree's stark hem – my skin begins
to warm. I'll not be worshipped again.
© by S. Thomas Summers.
Used with the author's permission.
.
Purchase a framed print of this poem.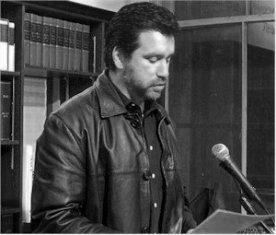 S. Thomas Summers is a literature and writing instructor in New Jersey. The author of two chapbooks, he also conducts workshops for both students and teachers, using contemporary poetry as a catalyst to spark interest in unmotivated students. He writes because he believes poetry develops a keener appreciation of breath and, as of today, his lungs are clear and healthy. Learn more about Scott at www.thelintinmypocket.wordpress.com.
New comments are closed for now.
ericgmuller:
Evocative - rich imagery - satisfying! Thanks, Eric
Posted 11/07/2010 01:20 PM