I.

      Hear the sledges with the bells —
         Silver bells!
What a world of merriment their melody foretells!
    How they tinkle, tinkle, tinkle,
       In the icy air of night!
    While the stars that oversprinkle
    All the heavens, seem to twinkle
       With a crystalline delight;
      Keeping time, time, time,
      In a sort of Runic rhyme,
To the tintinnabulation that so musically wells
   From the bells, bells, bells, bells,
          Bells, bells, bells —
  From the jingling and the tinkling of the bells.


Excepted from "The Bells."
This poem is in the public domain.


Purchase a framed print of this poem.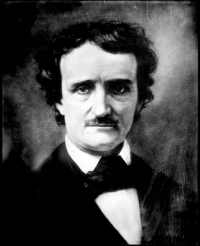 Edgar Allan Poe (1809 - 1849) was a writer, poet, editor, and critic. Born in Boston but orphaned before his third birthday, Edgar was raised by foster parents from whom he eventually became estranged. He attended college briefly then joined the Army the same year his first book of poetry was published. Edgar is often credited as the first writer who attempted to make a living solely from his published work, but he struggled with debt, depression, and substance abuse for most of his life. Though his earnings were meager, his renown was widespread; "The Raven" was hugely popular when it was published and made Edgar virtually a household name. Like his father, he died under mysterious circumstances, with much speculation but no official cause of death ever determined. Edgar is considered the inventor of the detective story; his influence on the horror and science fiction genre are undeniable, and his gothic tales continue to inspire books and movies even today.
New comments are closed for now.
dotief@comcast.net:
Don't you just love it! "The tintinnabulation of the bells...." Poe is the master of meter, and this is one of his finest poems. I also love "The Raven" not only for the eerie content, but the magical measures of meter! Genius!
Posted 12/13/2010 08:34 AM