Just the most unlikely man to ever be called Friday.
Monday, maybe, or Wednesday, or Sunday
so long as Sunday meant jacket and tie,
church in the morning, second pew,
Latin, anyone's confession but his own.

Jack Webb, from the city, Los Angeles,
carrying badge number 714, so dead pan
not even Dan Akroyd could pull it off,
taking his coffee simply black.

No one cares anymore if the stories are true.
No one cares if the names have been changed.
No one tries to protect the innocent.
Where are you Joe Friday when we need you?
All we want are the facts.
© by Scott Owens.
Used with the author's permission.
?
Purchase a framed print of this poem.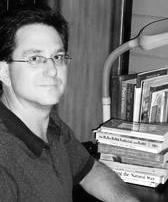 Scott Owens was born in Greenwood, SC, and grew up in poverty and abuse. He lives now in Hickory, NC, with his wife and three children, where he teaches at Catawba Valley Community College, edits "Wild Goose Poetry Review," coordinates monthly poetry readings, and writes a weekly newspaper column on poetry. The first in his family to graduate high school, he credits poetry with turning his life around. His most recent book is The Nature of Attraction, a collaboration with Pris Campbell, published by Main Street Rag Press.
New comments are closed for now.
Joe Sottile:
Yes, this poem is a gem. I remember that Dragnet Days, while growing up on Long Island. I almost remember meeting my hero, Hopalong Cassidy.
Posted 01/17/2011 11:26 AM
dotief@comcast.net:
Love it! What I wouldn't give for the unadorned facts!
Posted 01/17/2011 08:18 AM
Gary Busha:
An excellent, dead-pan poem. This one hit a chord with me. Thanks.
Posted 01/17/2011 05:33 AM
Phyllis Beckman:
Thank you Scott Owens. May I have permission to read this to open a discussion of Superheroes?
Posted 01/17/2011 05:21 AM