n. fear of big words
Shunning Latinate constructions, I choose
instead the simple Anglo-Saxon
monosyllabic words, simple words.
Why utilize what I can use? I want to
make sense, not fabricate matter for
comprehension. Call it a fear, a phobia,
but my skin crawls when I hear pseudo-
words like functionality or paradigm.

In the beginning, we are told, was the Word.
and He spoke the world into being with
"Let there be light!" not "Illuminate this
cosmological nothingness into existence."
Imagine Matthew penning, "The Messiah
grew copiously lachrymose" instead of
"Jesus wept."

As I work on my own humble creations,
I seek clean, clear words, simple ideas:
Leave pomegranates, gorgonzola, and
osculation to other more erudite lovers;
I'll tell you, in no uncertain terms, I
love you. I will feed you apples and
cheese. We will share one sweet kiss.


From Let the Lady Speak (January 2011)
Purchase a framed print of this poem.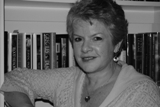 Nancy Posey lives in Hickory, NC. A native of Alabama, and the oldest of five sisters from a long line of storytellers, she is currently an English Instructor at Caldwell Community College and Technical Institute. After eighteen years of teaching high school, Nancy went on to enjoy careers as an accountant, a realtor, and Lamaze childbirth educator. At fifty, she decided to learn how to play the mandolin; she can't wait to see what she'll turn out to be when she grows up. A voracious reader, Nancy maintains a blog about books at http://discriminatingreader.com.
New comments are closed for now.
George Wentz:
I understand the last line but will need help from my hippopotomonstrosesquipedaliophobiologist with the rest of it!
Posted 04/21/2011 04:16 PM
Katrina:
I love this - especially the first verse and the title! Thanks for the prescriptinition.
Posted 04/21/2011 11:34 AM
Joe Sottile:
Bravo Nancy Posey! Mark Twain said,"The difference between the right word and the almost right word is the difference between lightning and a lightning bug."
Posted 04/21/2011 11:32 AM
KevinArnold:
What fun! I'm afraid to use any words over four letters . . . seriously, this is a very sure-footed poem, good to the last drop.
Posted 04/21/2011 08:28 AM
dotief@comcast.net:
Me, too! Great poem!
Posted 04/21/2011 08:27 AM
jeanie:
sweet! i love the last stanza!
Posted 04/21/2011 07:17 AM