How, when it has once broken 
over its banks,
can the river find its way back home

Or the cat, when it's winked 
at the dawn
find contentment on the hearth

How, when the mist has touched 
the mountain top,
can it rest easy on the meadow

or the daylilies when they've mirrored 
the summer sun,
sleep content in the dark arms of the earth

And if I live long and find all the answers
How will I be satisfied in a life
with no questions?


This poem first appeared in The Windy Hill Review (University of Wisconsin Waukesha).
Used here with the author's permission.
Purchase a framed print of this poem.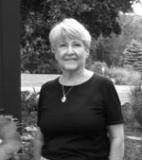 Kathleen (Katy) Phillips is a wife, mother, grandmother, former teacher and current creator of poetry and children's literature. Writing didn't enter her life until she was in her mid-sixties, but has provided a wealth of excitement and learning ever since. Katy has written eight books of poetry (which she handcrafts and sells locally), participated in several ekphrastic poetry projects, and has had work published in a number of journals and anthologies. She and her husband of 50 years have recently sold their house in rural Wisconsin--home for nearly 40 years--to move to an apartment in Milwaukee . . . from country to city, and ready for a great new adventure!
New comments are closed for now.
Purple Garden:
I sighed when I read it, Katy. Beautiful, beautiful. June Nirschl
Posted 06/15/2011 09:01 PM
Gail Goepfert:
Katy, I didn't get to post yesterday, but what a lovely poem. I agree with Janet. Love that line and the flow of the poem from start to the final question. It just seems to wind along like a road the end of which we cannot see.
Posted 06/12/2011 07:34 AM
Joe Sottile:
Good poem! We will NEVER find all of the answers. NEVER!
Posted 06/11/2011 10:21 PM
KevinArnold:
Ah, an antidote to our push for certainty. Good work.
Posted 06/11/2011 09:51 AM
Jo:
Katy, Way to go! I really like this poem, always have. I can't imagine a world without questions.
Posted 06/11/2011 09:31 AM
Janet Leahy:
to "sleep content in the dark arms of the earth," lovely, thanks Katy
Posted 06/11/2011 07:14 AM