There's some things that's wrong
An' there's some things that's right
At least, that's what I allus say
An' when y'kin tell it
An' choose what's the right
Yer livin' the Cowboy Way

Y'don't cheat at cards
Y'don't steal a man's drink
It's wrong t'make fun of a child
Y'don't stay a settin'
When ladies come in
Y'don't run around bein' wild

It's wrong t'shoot game
Jist t'see if y'kin
Y'don't pass off a coin that's a fake
It's right t'give praise
When y'see somethin' good
To admit when you've made a mistake

Y'don't sleep in church
Er sing hymns in a bar
Y'don't talk when another man is
Y'don't mistreat horses
Er laugh at a death
A Cowboy won't take what ain't his

It's right t'be truthful
T'say when yer wrong
Not put up yer gun lest y'clean it
It's wrong t'git drunk
An' t'fight with a friend
Er be bad an' then say y'don't mean it

Yes, some things is wrong
An' some things is right
That's what a real cowboy will say
An' when y'kin tell it
An' choose what's the right
Yer livin' the Cowboy Way

From Cowboy Poems and Outright Lies (Copyright 2001 by Hal Swift).
Used with the author's permission.

Purchase a framed print of this poem.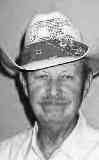 Hal Swift was born in 1928 in Speedway City, Indiana, on the 25th anniversary of the Wright brothers' flight at Kitty Hawk. When he was eight years old, his family moved to Phoenix, Arizona, where, as a teenager, Hal learned to play a bass fiddle and worked with local cowboy musicians such as Marty Robbins. His broadcast career of nearly fifty years culminated with induction into the Nevada Broadcast Association Hall of Fame in 2005. Hal's career was interrupted briefly when he served in the U.S. Navy as a Morse code radio operator with the Japan occupation forces, and in the Korean War. Married since 1952 to his wife, Carol, he is the father of three grown sons, has fourgrand daughters, and one grandson. His hobbies have included such disparate activities as martial arts, building model ships and airplanes, cartooning, semantics and, of course, writing. Now semi-retired, Hal and his wife currently live in Sparks, Nevada, where he continues to study and write about the West and its people. Learn more about Hal here, and read some of the background and inspiration for his books here and here.
New comments are closed for now.
There are no comments for this poem yet.