Now in our countdown years
the consequences of our actions
can be weighed.
The measure of a personís candor
is revealed, writing oneís
own obituary.
It says nothing of wrong turns,
what might have been.
Nor does it aver to having
lived a road to redemption.
In the best of circumstances
the text would read:
We did no harm, or tried not to.
We tried to do good.
We had many friends
and spent our days productively.
We apportioned time
to relax and play.
We loved someone dearly.
From Scattershot, A Collection of Unrelated Poems (Mina-Helwig, 2009).
Used here with the authorís permission.
Purchase a framed print of this poem.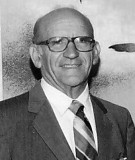 Edward Hujsak is a rocket engineer turned writer, artist, sculptor, and builder of fine furniture and musical instruments. A chemical engineering graduate of the University of New Hampshire, Edward worked on propulsion systems at General Dynamics during development of the Atlas and Centaur rockets. He was propulsion engineer on John Glenn's famous orbital flight and served as chief of preliminary design at General Dynamics Astronautics Division for ten years, accumulating more than a dozen patents in the aerospace field. Edward is the author of numerous published books and has written commentaries for a variety of journals and magazines, including Spaceflight, Space News, Machine Design, San Diego Reader and MAKE magazine. He lives in La Jolla, California.
New comments are closed for now.
Babystub:
Beautiful!!! Very meaningful and it speaks eloquent truth...
Posted 10/22/2011 04:49 PM
karenpaulholmes:
simple but powerful
Posted 10/22/2011 09:43 AM
dotief@comcast.net:
The last line really hits hard! Wonderful!
Posted 10/22/2011 08:46 AM