We rocked, didnít we?
We sent spaceships to the moon,
ringed Earth with satellites
and sang songs that echoed
around the world.
We tamed the atom and taught
electrons to be our willing slaves.
We built bigger shovels,
bored deep holes and
scraped off mountaintops
to stoke our ubiquitous engines.
Paul Bunyans all, feeding off
the spirit of Walt Whitman.
Still, it is the emptiness
that is the future that torments us.
Foolishly, we look for clues
from Revelation, Nostradamus.
Then, more soberly,
we think of innocents upon
a widened beach, spellbound
by the incoming tsunami.
From Scattershot, A Collection of Unrelated Poems (Mina-Helwig, 2009).
Used here with the authorís permission.
Purchase a framed print of this poem.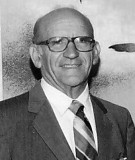 Edward Hujsak is a rocket engineer turned writer, artist, sculptor, and builder of fine furniture and musical instruments. A chemical engineering graduate of the University of New Hampshire, Edward worked on propulsion systems at General Dynamics during development of the Atlas and Centaur rockets. He was propulsion engineer on John Glenn's famous orbital flight and served as chief of preliminary design at General Dynamics Astronautics Division for ten years, accumulating more than a dozen patents in the aerospace field. Edward is the author of numerous published books and has written commentaries for a variety of journals and magazines, including Spaceflight, Space News, Machine Design, San Diego Reader and MAKE magazine. He lives in La Jolla, California.
New comments are closed for now.
Ginny C.:
This poem gives one pause, which is what poems are meant to do.
Posted 12/26/2011 10:20 AM
dotief@comcast.net:
Breath-taking last image! Thought-provoking poem.
Posted 12/26/2011 07:21 AM